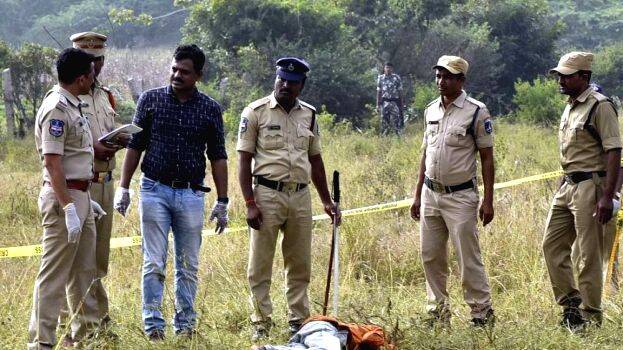 A Supreme Court-appointed commission of inquiry has found that a police encounter leading to the death of four accused in the gang-rape and murder of a veterinary doctor in Hyderabad was fake. The Justice Sirpurkar Commission found that the police had deliberately opened fire on the accused with the intention of killing them. The commission has also recommended that 10 of these police officers be tried for murder.
The court allowed the commission to release the report, rejecting the Telangana government's demand that the report be kept confidential. The Supreme Court has directed the Telangana High Court to take further action on the report.
The incident in Hyderabad had provoked huge protests across the country. People took to the streets pointing fingers at the government and the police. The burnt body of a young doctor was found on the morning of November 28, 2019 under the rocks on the Hyderabad-Bangalore National Highway. Four accused were arrested the next day. The accused lorry driver Mohammad Arif, cleaning workers Jollu Siva, Jollu Naveen and Channakeshavalu were taken for evidence collection on December 6 and shot dead at the scene of the incident. Police said the accused was shot and killed while trying to escape by snatching a police gun. On the same day, many dignitaries and media persons in and outside Telangana alleged that this was a fake encounter murder, but the government and the police chief denied it. Doubts also arose as to whether the real culprits had been killed. The Constitution and the Laws ensure justice for the accused as well as the victims. Although the police have the right to arrest the culprits, only the courts have the right to convict them. The trial is being held in court to give the accused the opportunity to prove his innocence and the prosecution the opportunity to prove guilt with evidence. The Constitution empowers only the courts to decide this. This is essential for the sustainability of the society. The police often act at the behest of the government. The court is not like that. Fake encounter murders have taken place in the past. There have been cases where not only the police but also political figures have been behind it. Therefore, police officers should be exemplarily punished if found guilty. This may avoid such incidents in the future.
The trial and administration of justice in such cases has been going on for years. The Supreme Court should also direct that the investigation, trial and verdict in cases of atrocities that shock the conscience should not last more than a year.