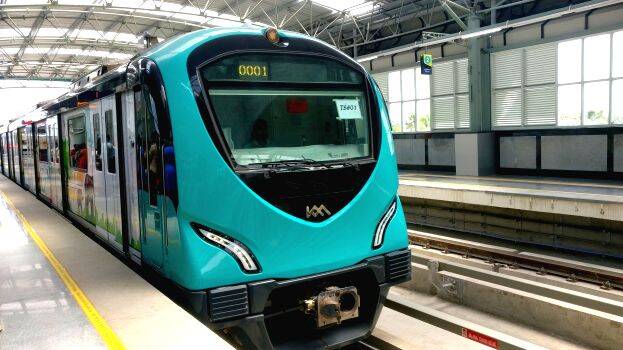 The incident in which unidentified persons infiltrated into the metro yard at Muttom near Kochi and wrote a threat message on the bogies of a metro train is a matter of grave concern. The incident took place on May 22. Despite knowing about the incident, the authorities tried to cover it up. It is reasonable to suspect that the authorities tried to cover it up out of fear that the incident might expose their faults and shortcomings. The serious incident came to light through an exclusive report written by our Kochi bureau chief TK Sunilkumar. Two unidentified persons infiltrated into the Kochi metro yard, a high-security area, and wrote 'first blast in Kochi' in English on the bogie of the train 'Pampa'. Although a case of sedition was registered, the incident had been kept secret to avoid any panic among the people. It is when people become aware of such incidents that the police obtain information that could be crucial in the investigation. Moreover, passengers will also remain alert. The authorities must remember the fact that when they conceal the details of the incident, they are concealing a security breach as well.
The 45-acre metro yard is located between Muttom Station and Ambattukavu Station on the Aluva Route. After service, all trains are brought to this yard for inspection. The yard is surrounded by a ten-foot-high wall and barbed wire fence and is guarded by industrial security forces, police, and private agency security. Yet, it should not be taken lightly that two men were able to infiltrate and write a threatening message. If they had planted the bomb instead, it would have shocked the entire country. Therefore, it is the duty of the metro authorities and the government to put in place antiquated security. It is learned that Metro has to pay Rs 35 crore to the Industrial Security Force for providing security. Despite repeated requests, the Metro hasn't handed over the amount. As a result, they reduced the number of security personnel. Although police provided 135 people in return, it also later withdrew 48 policemen due to non-receipt of money. There are not enough cameras installed in the yard. Security vulnerabilities can never be fixed by covering up such incidents.
Adding to the seriousness of the incident is the fact that the Kochi Naval Armory is located just 3 km away from the metro yard. Therefore, a thorough investigation and follow-up involving the central agencies is essential.