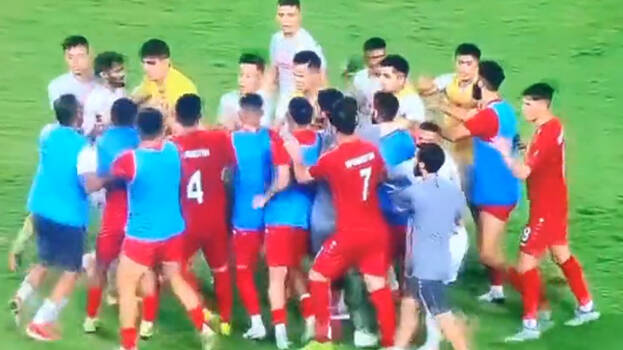 KOLKATA: The Afghan team members attacked Indian players who won the qualifiers round match in AFC Cup held in Kolkata. The incident happened after the match. A video surfacing on Twitter shows Indian defender Akash Mishra having a verbal spat with Afghan player Omran Haydary, followed by midfielder Zohib Amiri grabbing Akash by the collar and then was seen hitting him on the body. Akash was accompanied by Roshan Singh, wing back player at the time of the incident.
Indian goalkeeper Gurpreet Singh tried hard to pacify the players from both sides, but he too was beaten. Finally Captain Sunil Chhetri, AFC officials and other players intervened and stopped the players.
Although the reason for the quarrel is not clear, it is believed that some incidents during the match is the reason. The AFC has not officially commented on the clash after the match, but they are likely to take action against the players. Further action will be taken on the basis of the report of the Match Commissioner.