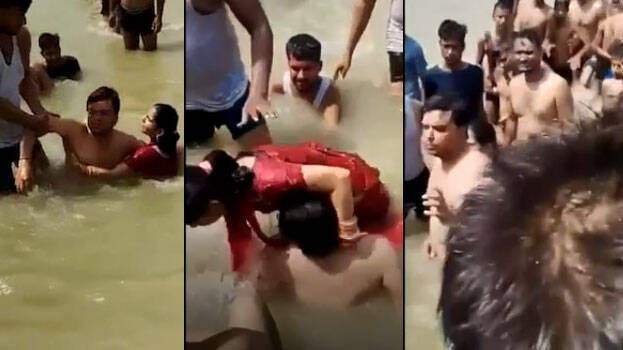 LUCKNOW: An angry mob thrashed a youth for kissing his wife while bathing in Ayodhya's Ram ki Paidi. The video of the attack has gone viral on social media.
In the video, the couple can be seen taking a dip in the ghat. Meantime, the youth kisses his wife. A few seconds later, a man drags the husband away and began to hit him. The wife tries to stop the man but the duo was soon overpowered by the crowd.
Although the video went viral, we have not yet received any complaints in connection with the incident, said the police. According to the police, the video is a week old. We are now trying to find out where the couple is currently residing so that if they wish to take any action, a complaint can be registered, said the police.
Ram ki Paidi is a series of ghats on the bank of Saryu river. Every day, numerous devotees from all over the country visit Sarayu to take a dip in the holy river.