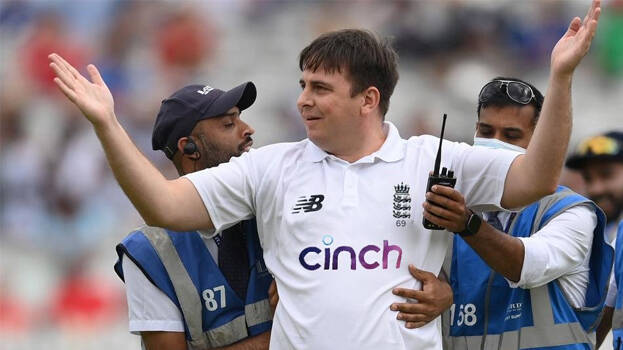 BIRMINGHAM: Prankster Daniel aka Jarvo 69 created much trouble for security officers during India vs England fifth test. During the India-England test match last year at the Ovals, he entered the ground thrice without getting caught by the security officers. According to them, Jarvo does this to increase the number of hits on his YouTube channel.
Last time Jarvo was at the Oval Cricket Ground in London. This time the match is being held in Birmingham, which is about 200 km away from there. But security officials believe that the Jarvo threat is still there. Although Jarvo's videos are mostly London-based, Jarvo has recently expanded his pranks to other locations. Jarvo's videos, which were not noticed by anyone, quickly became a hit when he entered the ground pretending as an Indian player at the Oval. Therefore, the security officials are hoping that Jarvo will come this time too at any cost.
Jarvo has been to the ground three times in the past. Security officials at first did not recognize him, thought he was one among the fielders. Eventually the umpire found him. Later, when an Indian batsman was out, Jarvo came in to replace him. A video of Jarvo being dragged from the crease by two security guards that day, has went viral.
During the third time, Jarvo came to bowl. But this time the prank became serious. Jarvo, who ran to bowl, hit England batsman Bairstow on the back, who was standing at the bowling end. Jarvo received a lifetime ban from the Oval for trying to injure a player. Normally if a person is barred from the Oval for entering the pitch, the ban will apply to all stadiums under the England and Wales Cricket Board.
Jarvo's pranks is not only limited to cricket. The last time Real Madrid won the Champions League, Jarvo celebrated with the players as one of them wearing the Real Madrid jersey. In the video he is seen hugging Brazilian player Vinicius Jr. and also appreciates members of the coaching staff. Another time, Jarvo was spotted among Japanese players wearing their jersey while singing the national anthem of the Japanese team at an international football match. The video of a wrestler beating Jarvo, mistaking him for an opponent during a prank at WWE wrestling, also went viral.