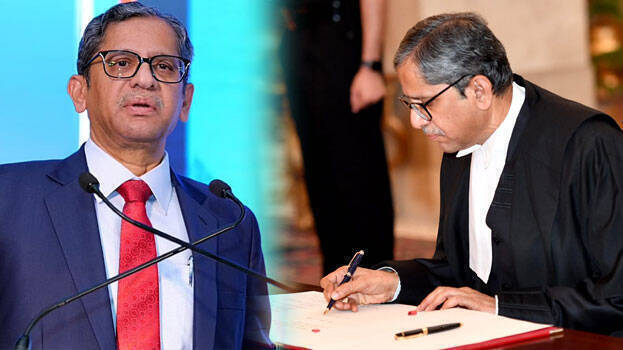 NEW DELHI: Supreme Court Chief Justice N V Ramana came down heavily on the media in our country. The media are running kangaroo courts and are taking the country backwards, criticized Ramana, while addressing an event at the National University of Study and Research in Law, Ranchi.
"There are concerted campaigns on social media against judges. Judges may not react immediately. New media tools have enormous amplifying ability but appear to be incapable of distinguishing between the right and the wrong, the good and the bad and the real and the fake.
Ill-informed and agenda-driven debates on issues involving justice delivery are proving to be detrimental to the health of democracy. Biased views being propagated by media are affecting the people, weakening democracy, and harming the system. In this process, justice delivery gets adversely affected. The print media still has a certain degree of accountability. Whereas electronic media has zero accountability as what it shows vanishes into thin air. Still, worse is social media. It is best for media to self-regulate and measure their words", Ramana said.
"While politicians, bureaucrats, police officers and other public representatives are often provided with security even after their retirement owing to the sensitiveness of their jobs, ironically, judges are not extended similar protection. These days, we are witnessing an increasing number of physical attacks on judges… Judges have to live in the same society as the people that they have been convicted, without any security or assurance of safety", he added.