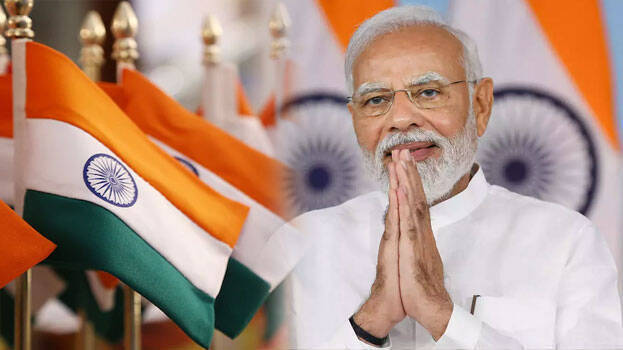 NEW DELHI: Prime Minister Narendra Modi has changed his profile picture on all his social media handles to the national flag, as part of the central government's 'Har Ghar Tiranga' campaign.
The prime minister had earlier called upon the citizens to put the tricolour as their profile pictures, from August 2 to 15, to mark the country's 75th Independence Day celebrations. He had also urged the citizens to hoist the national flag at their houses for three days from August 13 to 15.
"It is a special 2nd August today! At a time when we are marking Azadi Ka Amrit Mahotsav, our nation is all set for #HarGharTiranga, a collective movement to celebrate our Tricolour. I have changed the DP on my social media pages and urge you all to do the same," Modi tweeted on Tuesday.
Since last night, numerous people have expressed solidarity with the prime minister's call by changing their profile pictures on social media. A lot of people have switched to national flag frames for their Facebook DPs as well.
Earlier, Modi had suggested that all people should put tricolour as their profile pictures in his monthly radio programme 'Mann Ki Baat'. "August 2 also has a special connection with the tricolour. This day is the birth anniversary of Pingali Venkaiah ji who designed our national flag. I pay my respectful homage to him. I also remember the great revolutionary Madam Cama," he wrote on Twitter.