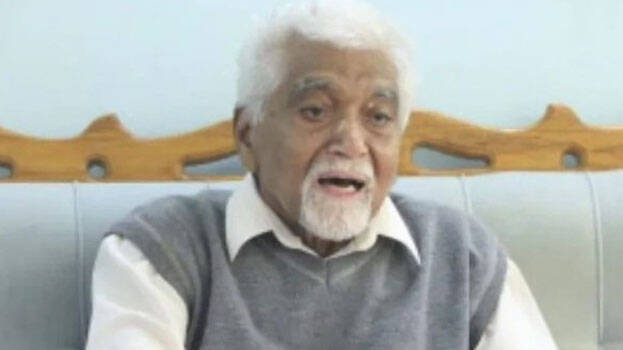 KANNUR: Veteran communist leader Berlin Kunjananthan Nair (97) passed away at his house in Narath in Kannur. He was resting at his house due to old age-related ailments. He was the political secretary of EMS.
Kunjananthan Nair had maintained close relations with global communist leaders. He had worked for a long time in Germany. He worked as a journalist there for a long time. He distanced himself from the party at a time when factionalism was strong in the party. Kunjananthan Nair was a staunch supporter of VS Achuthanandan then. He later corrected his stance and went on to say that the official side was correct. Lately, Berlin had expressed his desire to return to the party and meet Chief Minister Pinarayi Vijayan. Although Kunjananthan Nair was expelled from the party in 2005, he was reinstated in 2015. He was the youngest representative in the First Party Congress of 1943.
Kunjananthan Nair was born as the son of Ananthan Nair and Sridevi Amma on November 26, 1946 in Kolankada, Kannur. P Krishna Pillai was Kunjananthan Nair's political guru. His political activities began during his school days when Krishna Pillai picked him to lead the Baala Bharatha Sangham. He got party membership in 1942.