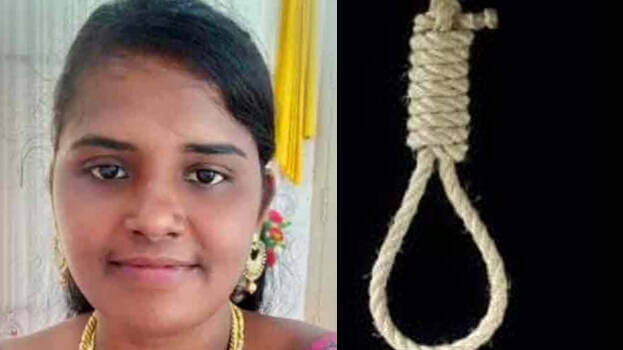 NAGERCOIL: A woman committed suicide during a video call with her husband. 33-year-old woman identified as Njananabhagya, a native of Kottaram in Kanyakumari, committed suicide. Her relatives broke opened the door and came to her room after her husband, who saw the live video of the suicide, informed them, but she was declared dead by then. Relatives said her husband's suspicious behaviour and harassment are the reasons for her to take the drastic step.
Njananabhagya was a temporary employee of Kottaram Panchayat office. Her husband Senthil, a native of Kanyakumari Periyavila, has been in Singapore for a long time. They got married eight years ago after falling in love. Senthil was suspicious of his wife's character. He did not like her talking to men including her relatives. There have been several fights over this. Senthil video calls his wife every day.
In the last video call, Senthil suspected someone in the room along with his wife. He did not believe even after she said that it was their children. He asked her to show the entire room on camera. When understood that there was no one in the room, he asked her to show the visuals of other rooms. Even after she said that there is no one there, he did not believe it and repeatedly asked her to show the visuals. Njananabhagya, who got disturbed over his behaviour hung without turning off the camera. Senthil immediately informed her relatives about the act.
Reports said that she just wanted to scare her husband but the noose around her neck tightened after she slipped from the stool. However, the police have not confirmed it. The police said that they have started an investigation into the incident and if found guilty, action will be taken against Senthil.