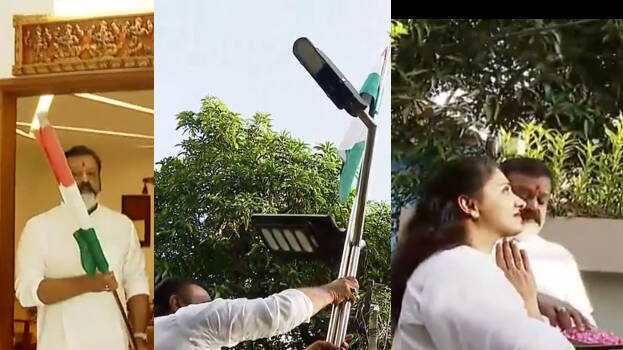 As part of the 'Har Ghar Tiranga' campaign, actor Suresh Gopi hoisted the national flag at his house in Sasthamangalam. After hoisting the tricolour, Suresh Gopi and his wife Radhika offered floral tributes as well. The actor said that he felt really proud.
"In the 2000s, when I went to the US, I had desired this a lot. Flags were spotted in many of the houses there. At first, I thought that those were the houses of officials. But no, flags are seen in the houses of subjects too. Then, I desired about flags flying in every Indian house, every day.
What I had then wished in my mind, happened today through the prime minister's call. The entire nation has started paying emotional tributes to the tricolor. What I envision in my mind are flags flying at homes 365 days", said Suresh Gopi, while talking to a private channel.