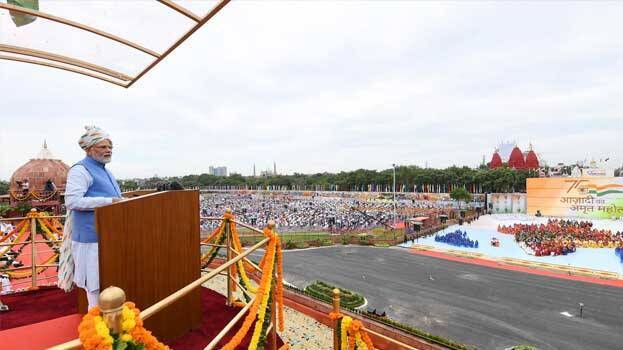 NEW DELHI: This Independence Day, Prime Minister Narendra Modi used paper notes, instead of teleprompter, while addressing the nation. It was his ninth address from the Red Fort.
The prime minister had sidelined the teleprompter from the beginning itself. In the one-half-hour long speech, he poured out words from his heart. He only relied on paper notes for reference. During the address, Modi was seen wearing a traditional tricolour headgear. He delivered the speech after paying tributes at the Raj Ghat and hoisting the national flag. He began his speech by describing the day as historic.
In his speech, Modi commemorated numerous freedom fighters namely Mahatma Gandhi, Jawaharlal Nehru, Subash Chandra Bose, V D Savarkar, B R Ambedkar, Sardar Vallabhbhai Patel, Rani Lakshmi Bhai, Bhagat Singh, Rajguru and Ramprasad Bismil among others.
The prime minister also called upon the people of the nation to move forward with 'Panch Pran' (five pledges) to fulfill the dreams of our freedom fighters by 2047. "The first pledge is to move forward with bigger resolves for a developed India. The second is to erase all traces of servitude. Third, be proud of our legacy; fourth, strength of unity; and fifth, duties of citizens which include the prime minister and chief ministers", he said.