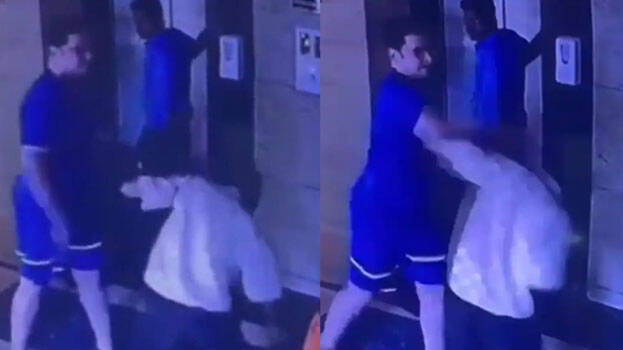 GURUGRAM: A youth was caught on camera thrashing a security guard who came to rescue him from the lift, where he was trapped for a few minutes. The youth was seen slapping and abusing the security guard and the lift operator. The police have arrested the youth, Varun Nath, in connection with the incident.
Varun Nath got stuck in the lift at around 7 am on Tuesday. According to reports, he was stuck in the lift for about three-four minutes. As soon as he got out of the lift, he started beating the security. Reportedly, Nath, who got trapped had sought the security guard's help via intercom. Following which, guard Ashok Kumar went near the lift along with the lift operator. However, it took around five minutes to open the lift. Soon after, Varun got angry and thrashed both of them. The CCTV visuals of the incident have surfaced on social media.
Following the incident, the security staff of the society announced a strike, stopped work and demanded action against the youth. The police have registered a case into the incident and investigation is underway.