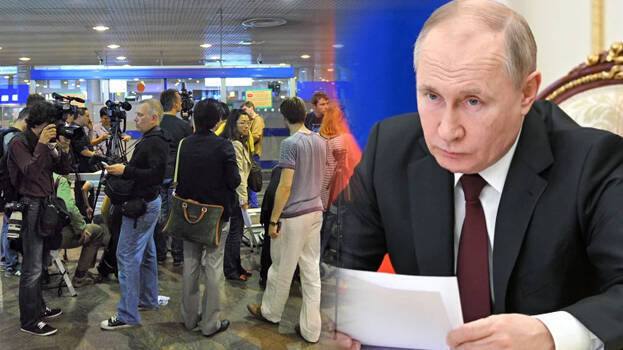 ​​​​​MOSCOW: After unexpected setbacks in the war, Russian President Vladimir Putin has announced partial mobilisation with 300,000 reserve battalions for the invasion of Ukraine. Because of this, the youth and middle-aged people are fleeing from the country. Most of the people leaving the country are between the ages of 18 and 65. Flight tickets out of the country were sold out in a single day. People are flocking to airports ready to buy tickets at any cost and they prefer one-way tickets. They don't want to return to their own country. In the meantime, the authorities realizing their mistake banned people between the ages of 18-65 from leaving the country. It is feared that martial law may be imposed in the country.
Russian President Vladimir Putin announced the deployment of reserve troops in a televised address on Wednesday morning. Putin has also warned that Russia will use their vast arsenal in case of a nuclear threat from the West. This is the first time Putin has issued such a stark warning since the invasion began on February 24.
Russia has 20 lakh reserve battalions. Putin's order affects those on the reserve list and those who have served in the armed forces. They will have to undergo compulsory military service and will be given training before being deployed in various units. The procedures for this has started yesterday but no further details has been released.
Putin's announcement comes as referendums are to be held tomorrow in the four regions seized by Russia from Ukraine. Some observers also suspect that Putin's move is to seize these places and to end the invasion.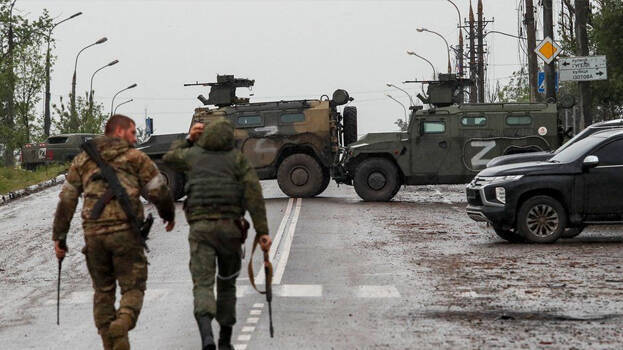 ​​​​​
Land corridor to Crimea is the goal
The Russian effort is to create a land corridor from Ukraine's eastern border to Crimea on the Black Sea coast. This will be possible if the referendums held from tomorrow to the 27th in the Luhansk and Donetsk provinces of the Donbas region, which are under the control of pro-Russian rebels, and in the Kherson and Zaporizhzhia regions, which were captured by the army, favours Russia. Also 15 per cent of Ukraine will be part of Russia. This is similar to the annexation of the Crimean Peninsula in 2014.
Referendum
*It is reported that it will be held from tomorrow till next Tuesday in Luhansk, Donetsk, Kherson and Zaporizhzhia.
*Vladimir Putin declared Donetsk and Luhansk provinces controlled by pro-Russian rebels as independent republics in February.
*Russia captured regions of Kherson and Zaporizhzhia in the early days of the invasion.
*Europe's largest nuclear power plant is located in Zaporizhzhia.
*These four provinces are not completely under the control of Russia.
*Russia controls a total area of ​​more than 90,000 square kilometers in all four provinces. It is about 15 percent of Ukraine's total land area.
*If Crimea is included, which Russia seized from Ukraine in 2014, along with these four territories, a region similar to the size of US state Pennsylvania will be a part of Russia.
*Ukraine and Western countries have come out against Russia's referendum. The invasion will be get more complicated if the territories are annexed to Russia by referendum and Ukraine retaliates. Russia has already signaled that it will not hesitate to use nuclear weapons. Any intervention by NATO countries or the US could lead to another world war.
*Currently, Western sanctions and the backlash in Ukraine have negatively affected Russia economically and militarily. Protests against Putin are rising within Russia itself. In this context, Putin's decisions will be crucial in determining the course of the invasion.