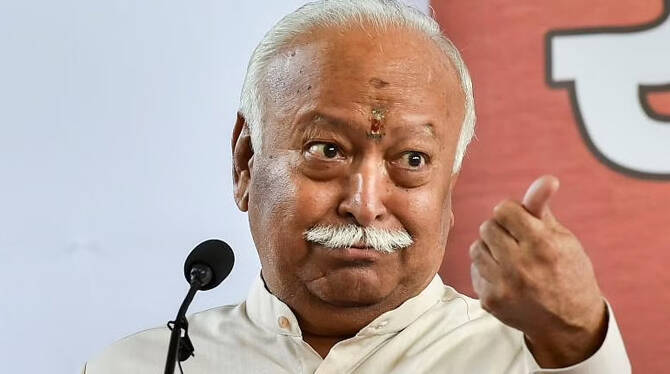 NAGPUR: RSS chief Mohan Bhagwat on Thursday said that people should follow discipline while eating meat so that their mind stays focused. He warned that if you eat the wrong food, it will lead you down the wrong path. "It's said if you eat the wrong food, you will go on the wrong path. Hence, don't eat Tamasic food," Bhagwat said.
Mohan Bhagwat was speaking at an event organized by Bharat Vikas Manch, an RSS-affiliated organization.
He said there is a marked difference between people who eat meat in India and the West. "In the West, people eat meat and fish. Non-vegetarians here don't consume non-veg food during Sawan and some days of the week, they try to follow discipline in consuming meat. They do not eat it on Monday, Tuesday, Thursday or Saturday. They impose certain rules on themselves,' said Bhagwat.
It is also interesting to note that Mohan Bhagwat's remarks came during Navratri festivals. During this time many people in the country stop eating non-veg food and follow rituals including fasting.
Spirituality is the soul of India
Mohan Bhagwat said in his speech that 'spirituality is the soul of India'. He explained this by referring to Sri Lanka and Maldives. "It was only India which helped Sri Lanka and Maldives when these countries were in distress while other countries were interested in finding business opportunities. Spirituality is the "soul of India",' Mohan Bhagwat said.
"Spirituality is the soul of India. What does India need to do? It is to tell everyone how to live life on the basis of this spirituality through our own example," he said.
Mohan Bhagwat also pointed out that countries such as China, America and Pakistan were looking for business opportunities in Sri Lanka.