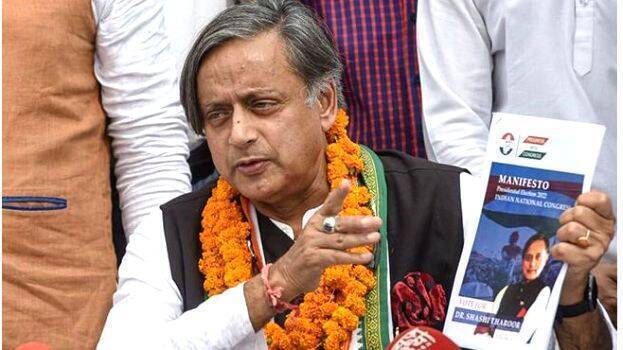 NEW DELHI: Congress presidential candidate Shashi Tharoor on Friday issued a clarification over the map blunder in his manifesto stating that "no one does such things on purpose" and added that team of volunteers had committed a mistake.
"Re the troll storm on a manifesto map: No one does such things on purpose. A small team of volunteers made a mistake. We rectified it immediately and I apologise unconditionally for the error," the Congress MP said in a tweet.
He also shared the link of the rectified manifesto.
Earlier, the election manifesto shared by him showed a "distorted map of India" in which he omitted parts of Jammu and Kashmir and Ladakh.
He shared the distorted map of India, where he talked about 'decentralization of the organization'.
The goof-up by Tharoor, who is running for the president's post of the country's oldest party does not show good precedent.
Later Tharoor rectified the blunder by replacing it with the correct map of India in his election manifesto.
This is not the first time the Lok Sabha MP has shared a distorted map of India. Earlier in 2019, Tharoor shared a 'distorted' map of India on Twitter. The northernmost territory of the country was missing from the map shared by the Congress leader.
Party communications in-charge Jairam Ramesh called the distorted map an "egregious error", putting the onus of explanation on Tharoor and his team.

He was responding to a tweet by BJP IT Cell chief Amit Malviya who took a dig at Rahul Gandhi's 'Bharat Jodo Yatra' and Tharoor.
"The BJP is clearly panicking now that the Bharat Jodo Yatra has entered Karnataka. The "I Troll Cell" (IT Cell) of the BJP will look for any flimsy excuse to target and tarnish the Bharat Jodo Yatra and Rahul Gandhi. Only Dr Tharoor and his team can explain this egregious error," Jairam Ramesh said in a tweet.
Malviya said, "Shashi Tharoor, Congress's presidential hopeful, puts a mutilated map of India in his manifesto. While Rahul Gandhi is supposedly on a Bharat Jodo Yatra, wannabe Congress President is hell-bent on dismembering India. Maybe he thinks this might help find favour with the Gandhis."

Tharoor issued a manifesto explaining how he intends to rejuvenate the party through decentralisation and internal reorganisation if he wins the election.