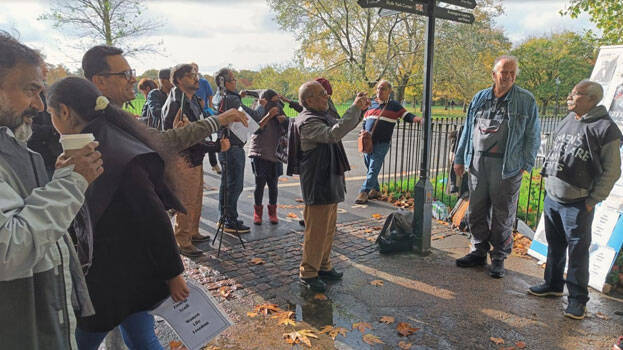 London: A protest was held at the Speakers's corner in Hyde Park, London, against the human rights violations related to wearing of hijabs in Iran. The protest was led by MN Karassery.
Karassery said that protest is done for the right of women to wear hijab in Karnataka and also the right of women not to wear hijab in Iran.
Iranian citizen, Aadhil, German citizen, Mike Kilok, Keralite, Dr Jebin Taj, Lekshmi Rajesh, Binnie, K Abdul Gafoor, Sunil Varrier, Umar Kottackal, Dijeo Saviour, and Karim Abdul spoke at the protest venue.
The program began after Rajesh Raman recited Sugatha Kumari's poem, Rathri Mazha. The protest was organized by a few Malayalees living in London under the leadership of Umar Kottackal, Manambur Suresh, Mini Raghavan, Jose Anthony, Dijeo Saviour, etc.
However, midway through the program, a few Iranian religious fanatics tried to disrupt the protests. A few other Iranians who supported the protests began to engage in verbal duels with the religious fanatics. This led to the protest being called off. Thus, the protests that was planned to start at 2 pm and end at 5 pm, had to wind up by 3.15 pm.