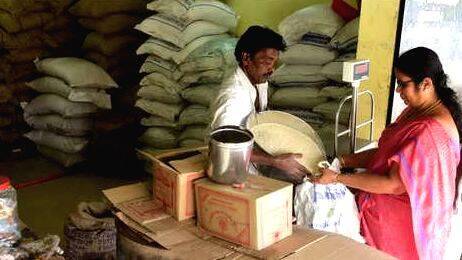 For some time there are no call for protests from ration shop keepers. But now, the ration shopkeepers have warned to shut shop from next Saturday onwards across the state. The protest is against the government's decision to cut the commission for distributing the ration by half this month.
The ruling and opposition trade unions are both protesting together against the government's move. Therefore if they go on strike the distribution of ration will be come to a standstill. If the Food Ministry have a discussion before Saturday and find a solution, then the strike will be called off. Everyone is hoping for a solution.
The ration shopkeepers have only one demand. Restore the 49% commission that was cut in October, which is a very reasonable demand.
Slashing the commission that was being given just because the government is facing financial crunch is not justifiable. The amount is not something which the government cannot pay. The government is paying only Rs.30 crores every month to all the ration shopkeepers as commission. In October, the amount allocated for the commission was just Rs.14.46 crores. This has led to the present issue.
Though the government is saying that it will repay the 51% drop in commission when the financial situation improves, the ration shopkeepers are not accepting it. This is because of their prior experience.
The ration shopkeepers are pointing out that when the government still has many dues to pay them, slashing their commission amount too is a burden on them. The ration shops are being run in such a way that they get at least Rs.18,000 every month as commission. Those shopkeepers who have more cards will get more commission. From the commission, the shopkeeper has to pay the rent, electricity, and payments to his helper.
The government had increased the revenue for the ration shops in order to stop cheating and other malpractices. The basic commission was fixed at Rs.18,000 for this purpose. Cutting this amount is not a at all a good decision.
Therefore, to solve the issue, the Minister for Food and Civil Supplies must intervene immediately. The government must make sure that its financial problems must not lead to a situation where the common people is deprived of their food.