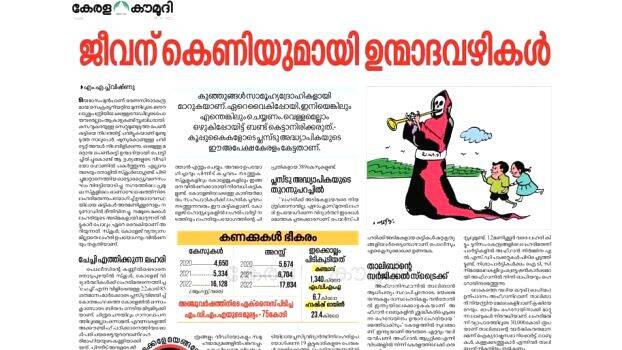 THIRUVANANTHAPURAM: The government has decided to take strict actions against drug mafia. Those who repeat the crime will be locked up prison for two years as preventive measure. The assets acquired through drug trade will be confiscated. Those who continue with drug pedaling after serving the sentence will get double the punishment. The accused must give bond for to get bail.
The Nigeran whole sale dealers of drugs were caught from Bangalore. The government's action follows Kerala Kaumudi's feature about drugs.
Under the Prevention of Illicit Traffic in Narcotic Drug and Psychotropic Substance Act, a habitual offender can be put in jail without trail for two years. The police have given the list of 162 persons for this to the Home Secretary.
The assets of the accused in Kottayam, Kollam, Ernakulam, Alappuzha, and Thiruvananthapuram have been confiscated. In Ernakulam 65 more person's assets will be confiscated. The police have the right to confiscate assets brought six years before the arrest. The DGP has ordered to use this law effectively. A report will be submitted to the court to catch offenders engaging in drug trade even after leaving jail and to give them double punishment.
It is possible to get the death penalty on the basis of the amount of drugs caught. If caught growing cannabis the accused can get up to 10 years in prison and Rs.10 lakh fine. If small amount of ganja is caught the prison sentence would be one year with Rs.10,000 as fine.