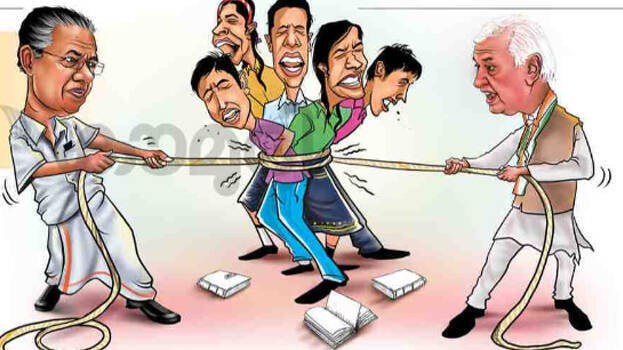 THIRUVANANTHAPURAM: Political involvement, power struggle and student union strikes that affects the higher education sector, has now brought the administration in state universities to a standstill.
The students are tensed. Degree and PG courses are not getting completed on time and certificates are not being issued. Thousands of students who got job even abroad, are unable to submit their original documents. Except Dr Mohan Kunnummal, Health University VC, nine Vice chancellors are under threat of expulsion. Kerala, Agricultural, Fisheries and Technological Universities are under administration of interim VCs. The lack of policy decisions by the VCs, who approached court to secure their position, leads to administrative stagnation. The VCs are not supervising any work. Teacher appointments are also stalled.
The vice chancellors of MG, Calicut, CUSAT, Sanskrit, Kannur, Malayalam, Open, Digital and Veterinary universities are under threat of expulsion. This decline comes at a time when huge schemes including Rs 1,000 crore have been announced in the budget to make the higher education sector world-class.
Kerala, MG, Kannur universities
Exam results are delayed. Certificates are not issued. An exam was conducted using old question papers. The Senate representative is not provided to the VC Appointments Committee. Kannur VC is not taking decisions due to court order. There is no board of studies in 72 subjects for two years in Kannur university.
Calicut university
In courses such as B.Voc, the first semester examination has not been conducted even after six semesters. There is no syllabus for integrated courses even after three semesters. Exam result of 2000 re-admitted students are not declared.
KTU
The strike against the interim VC appointed by the Governor ended with the favorable order of the High Court. Although interim VC took charge but it will take weeks to change the scenario. More than 7000 applications for graduation certificates have to be settled. Express and Fasttrack applications for graduation certificates are not accepted. 2500 engineering graduation certificates are issued, 5600 still remaining.
Agriculture university
In-charge administration on all posts including VC, Registrar and Controller of Examinations. The CPM organizations have stopped all the strike activities that have been going on for 50 days. The strike is against the demotion and transfer of the leader. The Registrar is not admitted to the office.
Sanskrit university
Regional learning centers like Thiruvananthapuram, Koyilandy, Panmana, Ettumanur and Tirur are being closed due to lack of syudents. 200 guest teachers were dismissed.
Regional learning centers in crisis due to lack of students in Open University. The situation is also similar digital university.
In 51 countries
Malayali students have migrated to 51 foreign countries. Most students are going to Britain.
4000 undergraduate seats are vacant in state
40% seats are vacant in Kerala university
55% on self-finance
62% in UITs