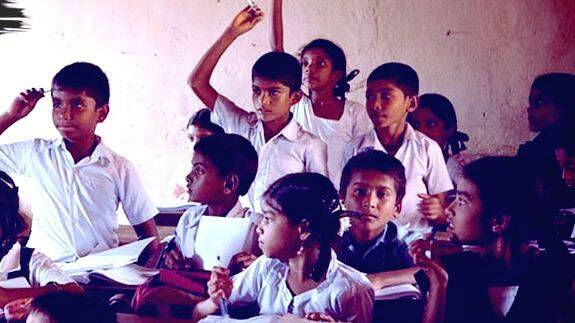 The price that the government pays for a single child for his or her afternoon food if Rs.6 to Rs.8. This seems surprising, but it is true. But now even that amount is not being given. The headmasters, who are responsible for the afternoon food distribution continues with this good deed with the help of some contributions from kind people.
When small children queue up for afternoon food, how can the teachers say that there is on food because government funding is stopped? That is why they are seeking help and donations of kind hearted people to keep the program running.
When the price of every commodity is high, it is important to increase the fund for afternoon food for children. The Education Department had given a note to the Finance Department that Rs.10 is needed for one child. The Finance Department has no time or interest to look into the matter of children's hunger. The Finance Department says that the condition of the treasury is such that not even Rs.1 expenditure can be made.
Those who are at the Finance Department cannot even hear the cries of hunger of small children. If not the headmasters would not have conducted a hunger strike against the government in this issue.
The share given by the government is decided on the number of children for afternoon food. If the number is less that 500 then for one child the share will be only Rs.6. If it is above 500 then the share of one child will be Rs.8. The payment of the fuel and the salary of the cook is given from this amount. This payment is given as handling costs.
The teachers who head the program say that the government must at least give Rs.15 for one child. Then only the program can go forward smoothly without any problems. This demand does not seem to be outrageous. Every sector is facing the issue of inflation. The government has the responsibility to continue the afternoon food for the children. It must be remembered that 60% of share for the afternoon food program comes from central government. No one can demand that the headmaster ask for contributions every month from kind people in the society. It is the duty of the government to keep it running.
There is complaint that even the Rs.6 and Rs.8 share is not given correctly. The cooks are also on the way to protest demanding higher wages. These is not an issue that can be postponed. Urgent decision must be taken by the government in this.