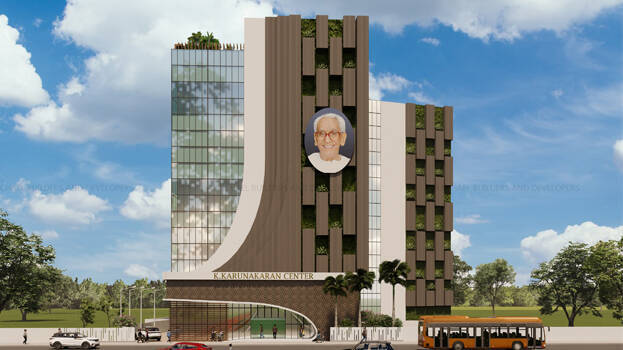 THIRUVANANTHAPURAM: A multi-storied building is being constructed near the Nandavanam A R camp in memory of senior Congress leader and former chief minister leader K Karunakaran. An 11-storied building titled K Karunakaran Center is being built under the leadership of K Karunakaran Foundation formed 12 years ago.
The building is being constructed at a cost of Rs 35 crore in 37 cents given by the government. A K Antony while serving as the defence minister laid the foundation stone of the Karunakaran Center on December 30 in 2013. The 100,000 square feet building houses K Karunakaran Research Centre, Leadership Training Institute, Reference Library of International Standard, Drawing Institute, Karunya Help Desk, 700-seated auditorium and 250-seated conference hall. EMS Academy is functioning in the capital city in the name of former chief minister EMS.
Donations are being accepted from the public for the construction. Donations are accepted at Rs 10,000 per booth. Coupon distribution and fund collection inaugurations will be held in all districts on the 12th death anniversary of the leader on December 23. Coupons of Rs 50, 100, 500 and 1000 are given. Apart from the coupons, online donations under the name 'My Gurudakshina' for the leader's memories will also be accepted. For this purpose, an account (No: 414663219078, IFSC Code TAAKACHA0070690) has been opened in the name of the Foundation at Nanthancode SBI Branch.
The official number of the foundation is 9847470707, the mobile number used by the leader. Google Pay facility is also there in this number. KPCC chief K Sudhakaran is the chairman of the foundation. K Muraleedharan (vice chairman), Padmaja Venugopal (treasurer), advocate Ibrahim Kutty Kallar (general secretary) are the main office-bearers.