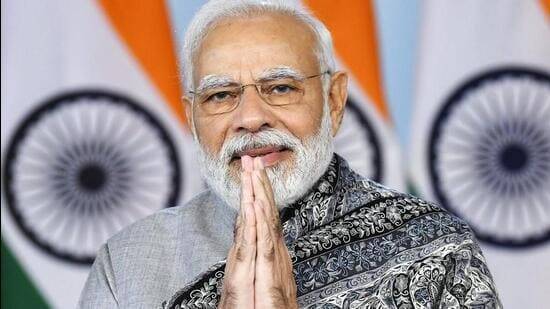 Prime Minister Narendra Modi said that India's great history must be presented in a way that generates pride. But it is now written and taught in a manner that creates low self-confidence. He made this statement during the martyrdom day memorial of Guru Gobind Singh.
India's glorious history must raise our self confidence and our pride. However, it is presented in a very narrow way. This has resulted in creating a feeling of inferiority complex. The citizens of this country have to be free from all sorts of mental slavery. The new India is rectifying this mistake.
If Bharat's high tradition and culture is imbibed in its truest glory, every Indian will hold his head high anywhere in the world. The new generation must imbibe the history of this country truly and clearly. The sacrifice of India's brave sons must be learned by the new generation through history lessons. The history taught in Indian classes are mostly written by foreigners. Textbooks that say indirectly that India could attain success just because we were under foreign rule, will never be suited to raise the confidence of the new generation.
Many ground breaking discoveries originated from Bharat. Our country was not behind anyone else when it came to spirituality and science. We were ahead of them all. However, still our history textbooks teach about viceroys and about the administrative reforms brought by foreign kings who attacked India. The negative effects of this teaching has affected the many generations in many ways. This creates a mindset of immigrating to foreign countries after higher education. These history textbooks will only help in fostering a slave mentality.
Most of the leaders of our independence struggle were educated abroad. This led to the belief that only having an English education will be accepted in India. Those who can handle English language efficiently used to get an upper hand in society even now. Our history books were written mostly by those who received English education. This made them see things from the perspective of the West.
The new India needs a change from all this. The change can come only through an education system that gives importance to Indian knowledge. That cannot be achieved soon. However, it is not too late to begin that change. Our history teaching must enable us to feel proud. Unfortunately, our education generates in us a feeling of being subservient to westerners. Maybe that is why our Prime Minister said that history teaching must instill pride in our selves.