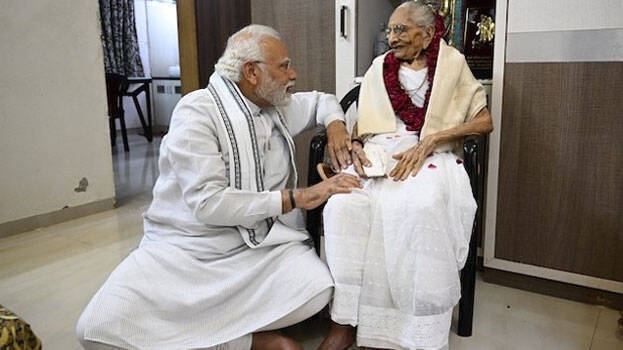 Living a life of sacrifice is not possible for everyone. However, crores of mothers living in India are living such a life. They are able to create an environment of peace and happiness in the home even if they are struggling financially. They prepare their children to live happily when there is poverty and to serve the country as much as possible. Heeraben, who was hundred years old, was a representation of such mothers of India. She was known to the world because she was the mother of Indian Prime Minister, Narendra Modi.
Though, she was the mother of one of the most powerful leaders in the world, she remained aloof from all that glitter, and lived normally as a Gujarati housewife and also left the world in such a normal and simple manner. When her son became the Prime Minister of India, she spent doing household chores at home and talking to relatives.
Modi was more aware of a mother's love that others. Once speaking of his mother in the United States, his eyes welled up and he found it hard to speak. Heeraben was a mother, who cleaned plates of neighboring houses and drew water from wells, forgetting everything else to grow her children.
She grew her children in a one room leaking house. Cow dung was used for fire and the smoke would blacken the walls. Yet she ensured that the beds on which her children slept were kept clean and tidy. Faith in God and self confidence made her strong. She had accompanied her son to a public function only at the swearing-in-ceremony of Modi as Gujarat Chief Minister. When he became Prime Minister of India, she had visited him only once at his official residence in 2016.
Heeraben lived with her youngest son, Pankaj Modi, at Raison village near Gandhinagar. When Narendra Modi used to visit his mother during birthday's, all of India used to see her. Her simplicity and care made her son strong enough to lead the nation.
By making her funeral a private affair, Modi has shown us another example. Everyone thought that the funeral of the Prime Minister would be attended by central ministers, chief ministers, businessmen, and thousands of people from Gujarat. However, nothing of that happened. It remained a normal affair, just like what happens when an old person dies in a Gujarati house.
Narendra Modi had decided that her funeral rites must not cause a block to any of the programs of the country. After completing the funeral rites in a simple manner and in all simplicity, he attended an online inauguration of Vande Bharat Train in Kolkata.
Heeraben's life gave too much importance to karma yoga. Her son was also hundred percentage true to that ideal as Prime Minister. When Heeraben turned hundred years, Modi wrote what he had learned from his mother.
Modi says that in the life of his mother he sees the sacrifice, power and dedication of the mothers in Bharat. When he sees crores of women just like his mother, he realizes that there is nothing impossible for them.
Heeraben will be remembered through the lives of every mother who lives a life of sacrifice.