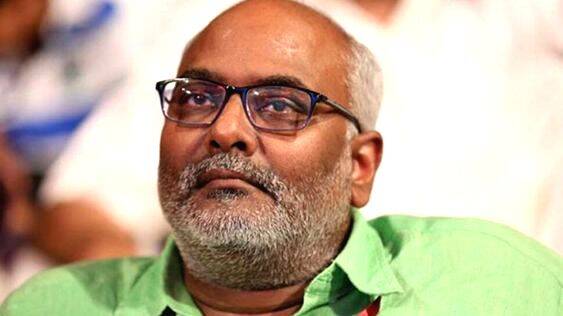 A R Rahman caressing the golden statuette amidst a never stopping applause, inside the Dolby theater in Hollywood was something that Indians longed to see. Indians never moved from the television set and survived an emotional edginess for hours after the announcement got made in 2009. 'Rahman creates history, grabs Oscar' went many headlines that popped in large Helvetica fonts. Even though the Rahman saga in 2009 was nothing short of mirth for Indians, in reality, many expected the Mozart of madras to ace the big stage someday. If not for 2009, Rahman would have someday kissed the Oscars. This was the general mindset of Indians, for Rahman had a larger-than-life figure that still towers without any real fight. After the Oscars, Rahman garnered a good lot of attention from the west. India got associated with Rahman for many years—the lone Indian musician to win an Oscar.
But yesterday someone from the same fraternity as Rahman made it into the annals of Indian cinema. 'Natu Natu' from RRR frenzied the whole globe and gave MM Keeravani a golden globe, unveiling himself to the world. We loved the songs but we don't know who created them—MM Keeravani falls in this category. His forte being Telugu, Keeravani also tuned for a few Hindi movies, where he gifted the film world classics such as 'Tu mile dhil khile' and 'jaadu hai nasha'. The songs find space in the playlist of everyone who experienced the ethereal 90s. The songs are loved but seldom has anyone heard the name Keeravani.
Keeravani is elusive. He uses a non de plume in Hindi and another one in the tamil industry. He retired after several years in the musical mileau but came out of it only to wield the music for his cousin SS Rajamouli's magnum opus Bahubali. The movie after its release got etched into the Indian cinematic universe seeing unprecedented success. Everyone associated with film happened to turn into a household name and so an elusive Keeravani had to give up finally to the big stage of recognition.
Keeravani is a master when it comes to arranging songs. Worked as an assistant to famous musician Rajamani, Keeravani climbed all ladders to work almost 365 days without a holiday during his formative years. His sound career also brought him to Malayalam in more than one instance. The songs from the Bharathan movie Devaragam are not lost on time. The Hindolam that Keeravani smeared on this album is a coveted one for every soul that lived the melodious nineties.
The success of RRR has transcended Keeravani to international acclaim, and into history, he goes for being the first Indian music director to win a golden globe for an Indian movie. Rahman's 'paradigm shift' to recognition was for a British movie ( slumdog millionaire) after all.
These are times when Bollywood look toppled by South Indian movies. Globally, the Indian film world was long connected or commented in regards only to Bollywood but times have changed, with south movies spiraling and gaining acclaim. Keeravani is one such least popular face of south India and is a phenomenon.