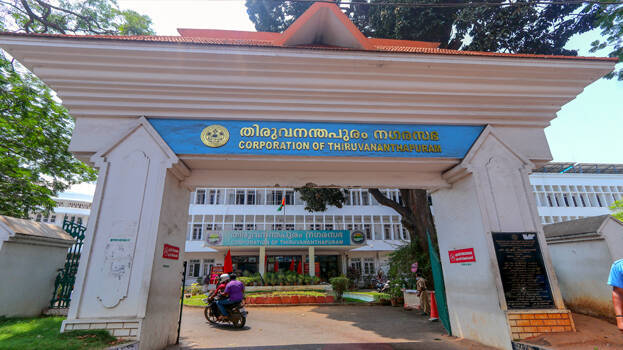 Thiruvananthapuram Corporation, which was once among the leading local bodies in the country, is now filling the news columns for its objectionable deeds. Frauds and scams in many forms and disguises are going on over there. Thiruvananthapuram Corporation office became a battleground recently because of the controversy caused by the letter of recommendation for backdoor appointments with the mayor's signature. The news about fraud and extortion in zonal offices are also abundant. The other day we had published the news that CAG had discovered a huge fraud that was happening there in the name of poor women. The CAG report mentioned the evidence they had about the officials who shared among themselves, the subsidy that was supposed to reach the rightful beneficiaries. In the last two financial years, subsidy fraud of five crore sixty lakh rupees has happened. As usual in this event too there may be noise and an investigative farce. The chances of the wrongdoers escaping strategically are also not low. The CAG has recommended that the investigation has to be handed over to an appropriate agency to find out about the subsidy fraud that has just been revealed.
The coup has taken place in the scheme to give Rs 3 lakh subsidy to groups run by women from general and scheduled caste categories to start small enterprises. The people in charge of the project created fake accounts and invoices in the name of women and pocketed the subsidy amount. While there is no option to grant loans to service cooperatives groups for business ventures, many of the applications submitted for subsidy are from cooperative bank account holders. Out of 215 groups that have benefited from subsidies in the last two years, only ten have acquired it through nationalized and commercial banks. The rest of the subsidies were granted with the support of fake accounts of cooperative banks. The municipal corporation pays the subsidy amount to the banks on completion of the loan repayment. It is reported that the money reaching the bank like this has been pinched by those behind the fraud.
It is almost a routine that any good project aimed at the upliftment of the weaker sections of the people will be misused for profit by the officials and politicians. These schemes are formulated with many loopholes for such misuse. Various scams are still going on in poverty alleviation, women empowerment, Scheduled Castes and Scheduled Tribes welfare schemes. Despite spending huge sums of money after independence for the welfare of tribals, they still live in abject poverty and hellish living conditions.
A thorough investigation should be conducted into the subsidy fraud that has come to light in the Thiruvananthapuram Municipal Corporation and the culprits should be brought to justice. Money that should benefit poor women should not be allowed to be stolen by a few greedy officials and their stooges.