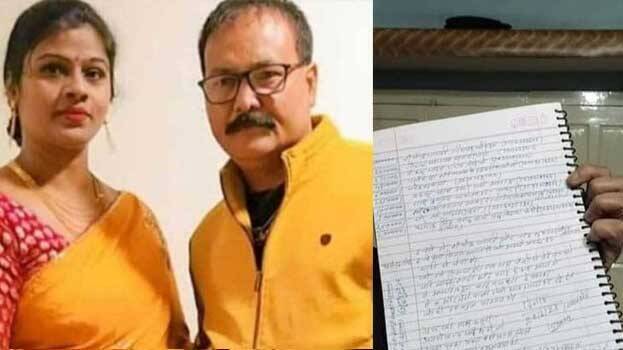 BHOPAL: Two days back, Sanjay Seth made a video, beseeching his friends to return back the borrowed money in order to conduct his daughter's marriage. The tail end of the video showed a request from Sanjay to his friends to solicit the marriage of his daughter if the situation demands. Just moments after the video, Sanjay killed his wife and later committed suicide.
Sanjay Seth is a textile businessman who hails from Panna in Madhya Pradesh. A suicide note has also been recovered by the police from the spot.
Police finalize the suicide to be related to family struggles. Sanjay in the video is seen requesting his friends to return the borrowed money, or else his daughter's marriage goes in vain. Sanjay in his last testimony reveals that at least Rs 29 lakhs is safely secured in the name of his daughter in the bank. Later he implored his friends and relatives to conduct his daughter's marriage in high opulence.
Sanjay is an ardent devotee of Bhageshwar Dham. In the video, the businessman also asks for an apology from his guru and says he wants to be Dham's disciple if there exists another life. It is said that Sanjay shot his wife Meenu and later triggered the gun on himself. The relatives hearing the piercing sound hurried to the second floor to see an already dead Meenu. Sanjay was taken to a nearby hospital but died on the way. The preliminary police report points to suicide, but an investigation has started nevertheless.