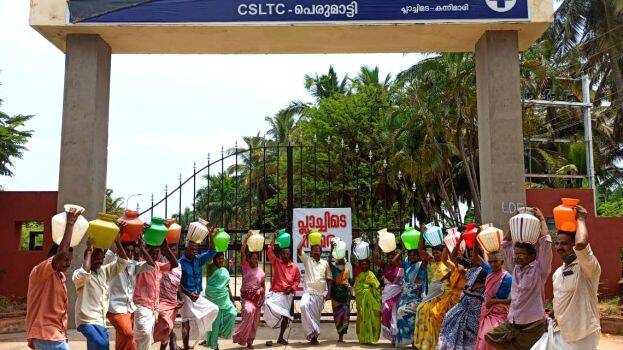 Intervention of Rakesh Tikait was the turning point
Chief Minister called a high-level meeting on 16th
THIRUVANANTHAPURAM: As the compensation for those affected by excessive water exploitation by the Plachimada Coca-Cola Company remains uncertain, Chief Minister Pinarayi Vijayan has called for a high-level meeting on the issue on the 16th.
Rakesh Tikait, the leader of the Delhi farmers' protest and the national spokesperson of the Bharatiya Kisan Union, reached Plachimada last week to show solidarity with the strike committee and submitted a petition to the Chief Minister and CPM General Secretary Sitaram Yechury demanding a fair decision to help the local residents. The Chief Minister called the meeting after this. After the Compensation Tribunal Bill was last returned by the President in 2015, the issue continued to be unresolved. After 2017, this is the second meeting to be convened by the Chief Minister on this issue.
The 2017 meeting discussed the demand of the strike committee to consider the state's own legislation in a manner that does not affect the Central Act or the Green Tribunal Act and sought legal advice from the Advocate General in this regard. But five years later, it sits gathering dust in the AG's office.
Rakesh Tikait came to Plachimada to show solidarity in the context of strengthening the agitation of 'Plachimada Samara Samithy'. Tikait stated that if there is no favorable decision from the government, he will take up the issue at the national level.
Cola company should give 216.26 crores
The State Pollution Control Board formed a local area environment protection committee on 14 September 2004 to study the damage caused by the Coca-Cola Company at Plachimada and estimate the compensation. The study report said that the cola company should pay compensation of Rs 216.26 crore considering the impact on water, soil, agriculture, environment, and health.
Milestones in the loss recovery effort
In 2011, the VS government passed the Plachimada Coca-Cola Victims and Compensation Claims Special Tribunal .
Bill sent for President's approval on March 29, 2011.
First, the Union Home Ministry and then the President sent back the bill.
On June 15, 2017, Chief Minister Pinarayi Vijayan convened a meeting and concluded that new legislation can be enacted without the intervention of central government departments.
Left to Advocate General for legal advice.
Current AG Gopalakrishna Kurup says that this is not in his knowledge.