Even otherwise, there is bad name...Dileep evokes laughter at Sunny Wayne marriage photo-shoot
| Published on Thu 11 Apr 2019 07:46 PM IST MALAYALAM VERSION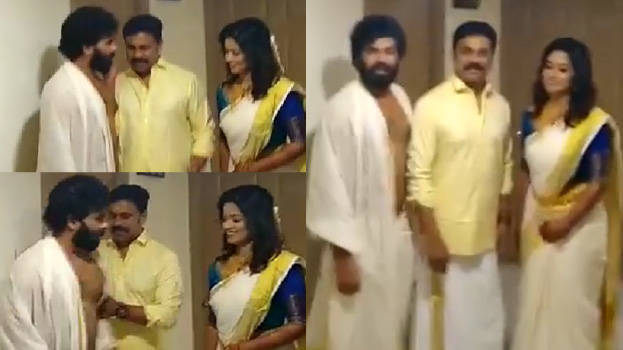 Actor Dileep also had reached, though unexpectedly, to attend Sunny Wayne's marriage. It was on Wednesday morning that Sunny Wayne and his long-time friend Ranjitha got married at Guruvayur temple.

During this time, Dileep and his wife Kavya had also arrived at the Guruvayur temple for the rice-feeding ceremony of their daughter. After this, Dileep went to wish the newly-wed couple and pose for photographs with them.

Soon after shaking hands with Sunny Wein, Dileep stood between the bride and bridegroom to pose for snaps. Suddenly, as if after a sudden second thoughൂ, he slipped back and came to the right side of Sunny, saying, "…even otherwise people have bad names".



Hearing this witty dialogue, people around them started laughing. Dileep's elder daughter Meenakshi also had accompanied Kavya and Dileep to the temple.

The rice-feeding ceremony took place after Usha Puja. Kavya and daughter Mahalakshmi also offered Thulabharam.
Mahalakshmi, was born to Dileep and Kavya last October. She was born on Vijayadashami day.