Cashew business will shut if this state continues
| Published on Fri 03 May 2019 11:40 PM IST MALAYALAM VERSION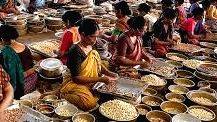 About four to five lakh poor people of Kerala were once heavily dependent on cashew business. The state of affairs of the cashew industry in the State now is deplorable.
We can only shed tears over the unscrupulous steps taken by the authorities who control the business. Unfortunately, steps taken to promote the cashew industry and workers only helped the growth of certain politicians and top bureaucrats.
Minimum one lakh tonne cashew is necessary for cashew factories in public sector and private sector to ensure that workers have job in the factory at least for half the numbers of days in a year.
Every year the price of raw cashew is going north. The sale of cashew will be a loss if good price is not obtained for refined cashew nut. Here is where the government and agencies below it have the role. If the governments which deal with the business avoid the middle men and enter into a business deal directly, the quality of the raw cashew and its profit can be ensured. But as the government take to tender procedures, the Cashew board faces substantial losses in the cashew business.
The current import deals related to the cashew is also an example for the allegation that anything can happen in a public sector unit.
When deals are done by public sector units without middlemen, the business will become profitable. But what is happening is just the opposite. The main reason for this is the corruption and extravaganza that have infected the public sector unit.