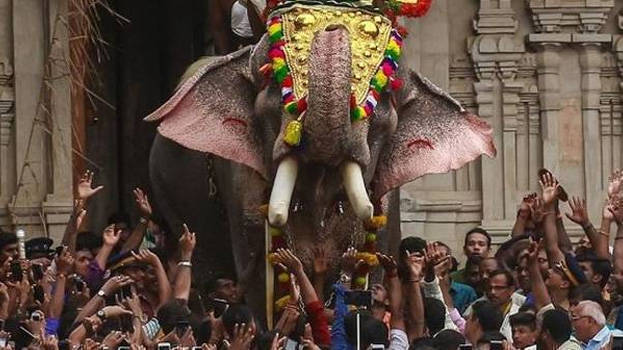 THRISSUR: King of charm Thechikottukavu Ramachandran was acquired by Chavakkad Sree Vishwanatha Temple for their festival procession at a record amount of 6.75 lakhs at the auction.
35 temple committees of Thrissur and Palakkad districts participated in the auction for the festival from 25th to 28th of this month. Ramachandran will be part of it only on 27th. Ramachandran will take his position on the right side of Thidambu elephant at the festival procession by 3 pm to return at 8.30 pm.
Ramachandran's procession costs more than other elephants. The Devaswom also has to bear the cost of the ten-member elephant squad, ambulance, and elephant workers.
In February 2019, Ramachandran, who got scared by the sound of fireworks, had killed two people in Guruvayur before getting banned. The Elephant Monitoring Committee lifted the ban and he attended a procession at Balasubramanian Swamy Temple, Cheerakuzhy recently. He is permitted to attend procession only 2 days a week.
What a charm
317 cm tall. Body length 340 cm
18 perfect nails and a trunk that drags
Big head, long fat body, strong legs
The most charming elephant in Kerala
First in fan power
Ramachandran is a tusker with a Facebook account and several fan groups. The beauty of Thrissur Pooram's famous Thekke Gopura Nada door opening ceremony. Thechikotukav Devaswom says that no other elephant in Asia is as tall as Ramachandran.
He came to Kerala in 1982 from the elephant market in Bihar. 13 years old then, and his name was Motiprasad. In 1984, Thechikottu Devaswom purchased him.
Ramachandran is the best in looks and charm-
Dr. PB Giridas
Elephant treatment specialist.