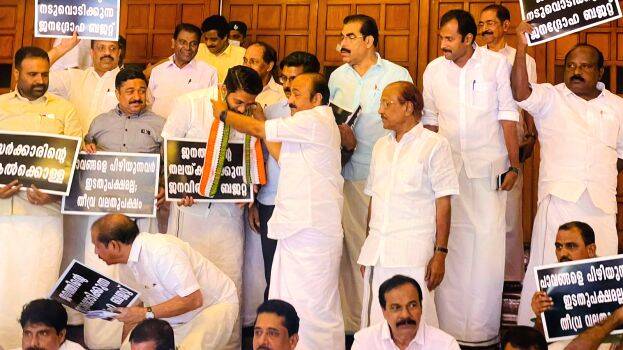 THIRUVANANTHAPURAM: Four UDF MLAs have started a round-the-clock satyagraha at the assembly gate as part of intensifying their struggle against tax evasion in the state budget. Congress members Shafi Parambil, Mathew Kuzhalnathan, CR Mahesh and Muslim League member Najeeb Kanthapuram are the ones leading the protest.
Opposition leader VD Satheesan informed the House about the satyagraha of the MLAs before the debate on the budget started after the break yesterday. Then the MLAs marched towards the assembly gate with placards bearing protest slogans against the government. Other opposition MLAs greeted the satyagraha leaders.
VD Satheesan accused the finance minister of presenting the worst budget in the history of the state. The budget has turned out to be another disaster that has rained down like thunder on the people who are exhausted by the crisis caused by the pandemic and flood. An additional liability of Rs 4000 crore has been imposed on the people, including Rs 3000 crore directly and Rs 1000 crore indirectly. Unscientific tax proposals will derail Kerala's economy. He said that people's lives will be severely affected.
Protest will intensify outside the assembly
Apart from satyagraha in the assembly, UDF has decided to intensify the protest outside. Today, Congress will organize a march to Secretariat and Collectorates in other districts. On the 13th, UDF will hold a day and night strike in the district centers.