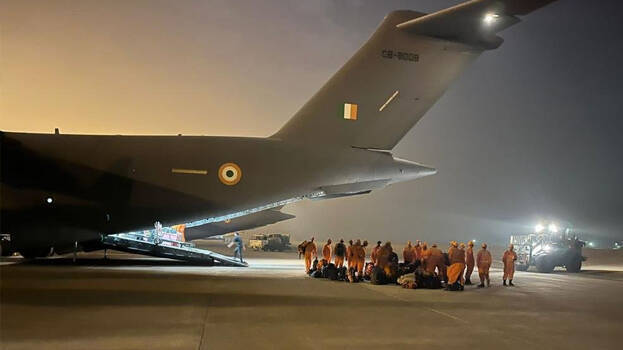 NEW DELHI: Pakistan has denied airspace access to Indian Airforce aircraft carrying relief materials to earthquake victims in Turkey. The aircrafts started travelling from India today morning. As Pakistan denied entry, the aircraft took a detour and reached Turkey. The first batch of aid from India took off from the Hindon airbase in Ghaziabad. Turkey is known as Pakistan's close ally. They took a stand in favour of Pakistan in the Kashmir issue at the UN. So, Pakistan's denial of airspace access for relief operations to Turkey has become a topic of discussion.
Turkey and Syria are witnessing one of the most devastating earthquakes in history. More than 5,000 people were trapped in the rubble of buildings and died. 7.9 magnitude earthquake struck Turkey and Syria. Efforts are on to rescue those trapped from the rubble of the collapsed buildings.
Indian National Disaster Response Force (NDRF) teams with modern drilling equipment and rescue dogs have already landed at Adana airport in Turkey. The Indian Army will also set up a field hospital to provide medical assistance to those suffering in the region. The Turkish Embassy in India expressed its gratitude for the rescue operation.
This is the second time that Pakistan has tried to prevent India from sending humanitarian aid to countries in need. In 2021, India sent 50,000 metric tons of wheat to Afghanistan to prevent severe famine in the country after the Taliban captured Afghanistan. But the Pakistan government tried to stop it from being transported through their airspace. But this move of Pakistan also failed.