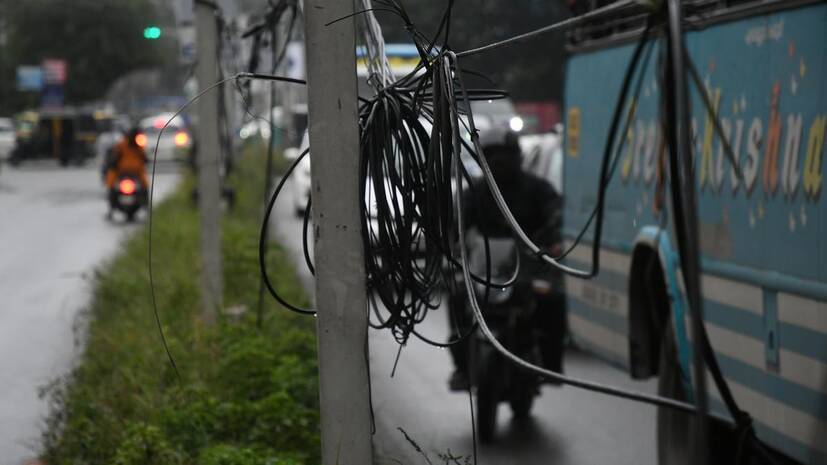 Road safety funds are squandered by buying vehicles and cameras
THIRUVANANTHAPURAM: The authorities turn a blind eye despite the fact that uncovered sewers and death-trap cables are taking the lives of passengers. Fuel cess of Rs 1 per litre is collected in the name of road safety. Three-quarters of the 68 crore rupees allocated in the last budget for road safety were squandered by purchasing enforcement vehicles and equipment including cameras for the police and motor vehicle departments. Despite severe criticism by the High Court, neither the government nor the concerned departments are effectively intervening to make the roads safe.
The latest example is when Karunagappally Adinadu native Vijayan's wife Usha lost her life after getting entangled in a cable from an electricity post while traveling on a scooter with her husband at Kayamkulam Edasseri junction on Monday night. Seeing the private company's cable lying low, Vijayan quickly bent his head, but the cable got caught on Usha's neck. They were returning after visiting their daughter-in-law's house in Pathiyoor to watch the festival at the Eruva temple. Before this shock was over, a woman hailing from Pullut Chappara in Kodungallur fell into a ditch yesterday. The young woman's life was saved by nearby shopkeepers.
There is insufficient security at the construction sites for making the national highway six lanes. Many places are left open causing the vehicles to fall off. About 100 complaints were received on WhatsApp and toll-free numbers of the Public Works Department last month regarding dangerous roads. Apart from the measures to secure the black spots, only a few projects including the installation of signboards and signal lights as recommended by the district road safety authorities are there for the safety of the common people.
Cable accidents
December 2022: Sabu and his wife Sindhu were injured when they fell off their scooter after getting entangled in a cable on Ernakulam Layam Road.
January 9, 2023 - Srini and his son were injured when two-wheeler got entangled in a cable on Kalamassery Thevakkal Manalimukku road.
January 13-Prabhakaran injured by cable entanglement at Tirumala near Poojapura, Thiruvananthapuram
Two wheelers
Those who fell into the pit and died
June 2022: Vishnu, native of Eroor, on Thrippunnithura market road
July 2022: Sanu.C.James, Aruvai, Pazhanji, Thrissur
September: Kunju Muhammad on Aluva - Perumbavoor road
February 2, 2023- Shyam, a native of Kangarappady, Edappally fell into a pit dug for a pipe
Two-wheeler accident 2022
Accidents- 28746
Death- 1651