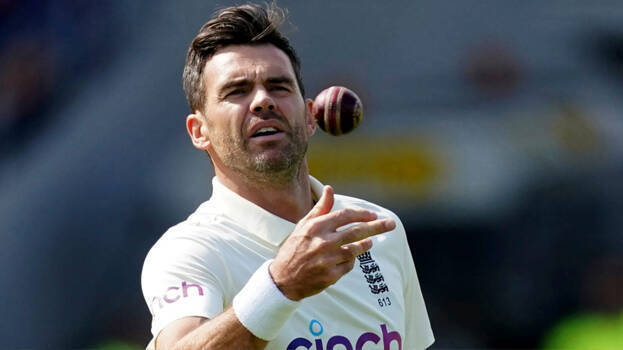 DUBAI: The remarkable career of James Anderson continues to reach new heights as the England pacer overtook Australia captain Pat Cummins and India spinner Ravichandran Ashwin to become the No 1 ranked bowler on the latest ICC Men's Test Rankings. Anderson, who is 40 years and 207 days old, has become the oldest bowler to hold the top ranking since Australian great Clarrie Grimmett did so back in 1936.
Anderson rose to the top on the back of his seven-wicket haul for England during their emphatic 267-run victory over New Zealand in Mount Maunganui last week, with the evergreen 40-year-old ending Cummins' four-year reign as the top-ranked Test bowler. It is the sixth time that Anderson has held the title as the premier bowler on the Test rankings, with the right-arm pacer first scaling the heights back in May 2016 when he went past teammate Stuart Broad and Ashwin to hold top billing in a distinguished international career that commenced way back in 2003. Anderson's lead at the top is very slender though, with Ashwin remaining in second place on a total of 864 rating points and just two rating points behind the England pacer. Cummins drops to third on 858 rating points, but could still regain top billing with some strong performances during Australia's ongoing Test series against India.
Meanwhile, Indian bowlers made advances in the rankings after the team's wins in the first two test matches against Australia. Jadeja has gone up by seven places and is currently ranked ninth. Axar Patel, who has gone up by two places in the all-rounders' rankings, is currently ranked fifth.