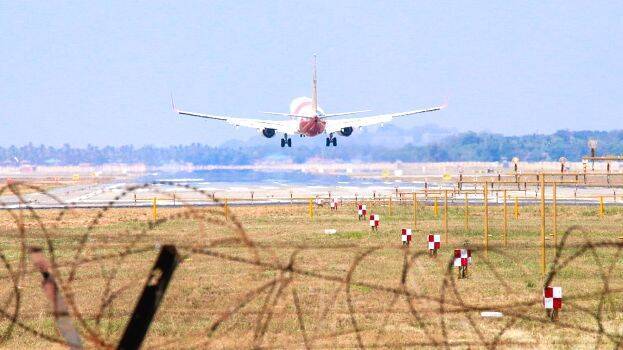 THIRUVANANTHAPURAM: The Directorate of Civil Aviation (DGCA) has launched an inquiry into the emergency landing in Thiruvananthapuram after a Dammam Air India Express flight suffered a tail strike at Karipur due to a mistake on takeoff. Aircraft Accident Investigation Bureau officials reached Karipur from Mumbai.
The tail part of the plane had grazed the runway and a part had gone inside. There are two main reasons for this. The pilot's error in pitching the plane and stacking the cargo in one area, disobeying aviation rules. Air India Express forwarded the details of the accident and the pilot's details to the DGCA. Thiruvananthapuram airport also reported to DGCA about the emergency landing. It was concluded that the plane took off in such a way that the rear end rubbed the runway and it was the pilot's error. DGCA may take action for this. The pilot has not been suspended, but as part of an inquiry, he has been asked to stay away from duty.
Although there were no serious problems with the plane, an emergency landing facility was arranged at Thiruvananthapuram as per the pilot's request. Since Air India has a hangar unit, maintenance is also considered. Permission was not granted in Nedumbassery which is busy.
8 tons of fuel was burnt
The plane flew 11 times
More than eight tons of fuel was used
12 tons of fuel at the start of the journey
Descended to 6000 feet and burned fuel
The Boeing 737-800 cannot eject fuel
That is why there was a need for the extra flight.
Preliminary report that the takeoff went wrong
Takeoff is normally at an eight-degree slope
Dammam flight's takeoff slope increased by 11 degrees
The rear part hit the runway
This is a serious mistake known as a tail hit
After about a third of the way down the runway, the plane took off