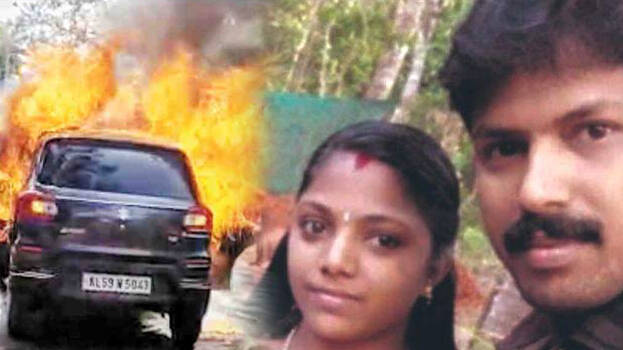 KANNUR: Forensic report confirmed the presence of petrol inside the car in which a couple died after their car caught fire in Kannur. This has been mentioned in the report submitted to the court. The forensic report was submitted in the sub-judicial magistrate's court in Thaliparambu after a month-long investigation.
The incident happened on February 2. The accident happened when the couple along with their family members were on their way to Kannur district hospital with his pregnant wife. Reesha and Prajith, both natives of Kuttiattoor were in the car. Questions were raised widely after the accident as to what could have caused the car to catch fire. The cause of the fire was found to be short circuit. However, the reason for the increase in the intensity of the fire was examined. In this, the forensic report now said there was presence of petrol inside the vehicle. However, Reesha's father clarified that there was only water in the car.
In an examination conducted on the second day after the accident, the forensic team found the presence of petrol in the car. If so, the family suspect whether someone else' had kept it in the car.