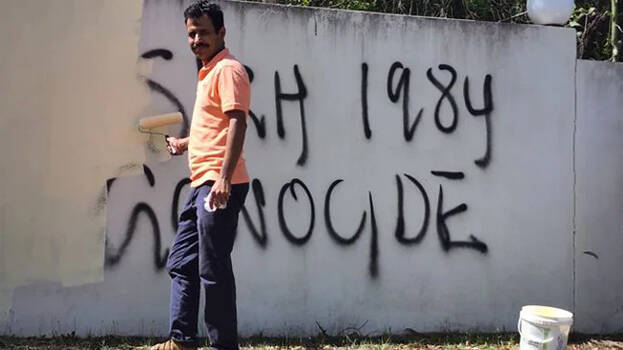 SYDNEY: Another attack on a Hindu temple in Australia. Defamatory graffiti appeared at Sri Lakshmi Narayana temple on Saturday. Anti-Hindu slogans were scrawled on the walls of the temple. It is reported that supporters of Khalistan are behind the incident. Similar incidents of violence have been reported in the country before this.
The graffiti was noticed by those who visited the temple on Saturday morning. Sarah Gates, the Director of Hindu Human Rights said that the matter has been reported to the Queensland Police and the police have assured the safety of the temple and worshippers. Sarah Gates also shared pictures of the removal of graffiti on the wall of the temple through social media.
Meanwhile, attacks on Hindu temples in Australia have become a regular occurrence. Pro-Khalistan supporters in the country had similarly vandalized three Hindu temples in January. The ISKCON Temple in Melbourne's Albert Park, the Sri Shiva Vishnu Temple in Carrum Downs, Victoria, and the Swami Narayana Temple in Melbourne were attacked on January 23, 16, and 12 respectively. During his visit to Australia last month, Indian External Affairs Minister S Jaishankar had expressed concern over the recurrence of such untoward incidents.