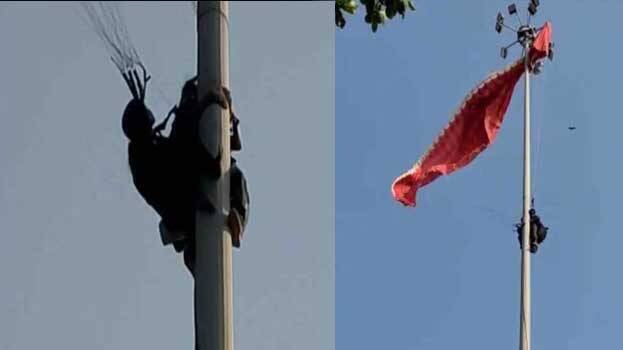 VARKALA: The police arrested three people in connection with the incident of a woman of Coimbatore and her trainer getting stuck on a high-mast light. The arrested are paragliding trainer and a native of Uttarakhand Sandeep and employees of paragliding company Shreyas and Prabhudev.
A case has also been taken against Fly Adventures Sports Private Limited Company. Police said the owners of the company are on the run. The police also clarified that the company did not have permission for paragliding in Papanasham. A case for culpable homicide not amounting to murder has been registered. Meantime, Sandeep said that he has a paragliding license. He also explained that the accident was caused by a sudden gust of wind.

The police also suspect that there was an attempt to sabotage the investigation. A paragliding company employee had got a signature of Pavithra (22), a tourist from Coimbatore on a stamped white paper. Pavithra sustained injuries in the accident. The employee posed as a hospital worker. The police said there is mystery in the company's activities and further questioning is required.

Sandeep and Pavithra met with the accident while paragliding at Varkala Papanasham beach around 4 pm yesterday. The paraglider, which took off from the Varkala helipad, lost control due to the sudden gust of wind. Both of them got stuck in the high mast lamp at Papanasham beach at a distance of 350 meters. The height of the lamp post is about 100 feet. Sandeep and Pavithra were 80 feet above the ground.
Both of them were rescued after a two-hour long effort. The rescue operations were conducted by the police and the fire brigade. The fire brigade spread a safety net around the lamp post. Mattresses were brought from the nearby resort to reduce the impact of the fall. Since it was difficult to organize a crane that could reach a height of 80 feet, it was decided to lower them down by rotating the steel cable attached to the upper lamp. The lever kept in the municipality was brought and attached to the wheel at the bottom of the pillar. As it was not safe to spin with a motor, it was spun by hand. By the time it was about 40 feet, a part of the lamp broke and both of them fell into the net.

Meantime, in her statement to the police, Pavithra said that although she often comes to Varkala, she is paragliding for the first time. After ten minutes of flying, the direction of the wind changed. This made it faster. Meanwhile the restraining ropes became too tight to move. A part of the glider came down and soon fell down. Pavithra said she was able to cling to the post after getting stuck in the pole of the high mast light. Pavithra told police that all this time death was in front of her.