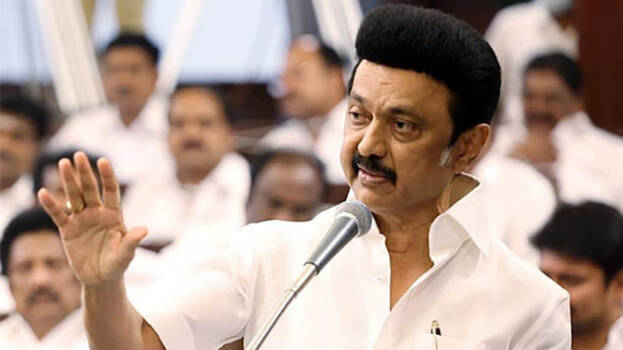 CHENNAI: Tamil Nadu Chief Minister MK Stalin has alleged that BJP workers are spreading false rumours against Tamil Nadu. He said that BJP leaders from north Indian states are spreading rumours that migrant labourers are being attacked in Tamil Nadu. Stalin said that the rumours started spreading a day after he spoke about the need for a united national-level alliance against the BJP.
"In Tamil Nadu, various state people are living for many periods. They never got affected at any time. For the past few years, many have been coming to Tamil Nadu in search of employment. In Tamil Nadu in any place, these people don't have any problems. But few people created fake videos and spread false news. BJP members from North Indian States did this with bad intentions. You can understand the plot behind the fake news spreaders if you noticed that these were done the very next day after I spoke about the need for a united national-level alliance against the BJP," said Stalin when asked about rumours that Migrant labourers are being attacked in Tamil Nadu.
"Post this fake news, I enquired and even spoke to Bihar CM Nitish Kumar. There are no such incidents in Tamil Nadu. DGP has given clarification. Even Bihar delegates visited TN and returned with full satisfaction. Tamil Nadu is a state known for 'Vandhorai Vala Vaikum Tamil Nadu' (whoever Comes here, Tamil Nadu would make their life better). Tamil Nadu - Tamils love unity and brotherhood. People who have high thoughts like 'Pirapokkum Ella Vyirukkum' (all men that live are one in circumstances of birth) - 'Yadum Ure Yavaru Kalir' (All the universe is our place and everyone in this universe is our people.) This is well known to the northern state brothers here," he added.
Notably, the issue over the alleged 'attack' on migrants emerged after unverified reports on social media claimed that migrant labourers were targeted in Tamil Nadu.
Amidst the prevailing development on the issue, a team from Bihar led by Balamurugan IAS visited Tamil Nadu to take stock of the matter.
The team visited Tiruppur on Sunday and met the district administration and police officials to know about the actions taken so far in the case. Officials of the Bihar government on Tuesday interacted with Bihar-based migrant workers in Chennai.