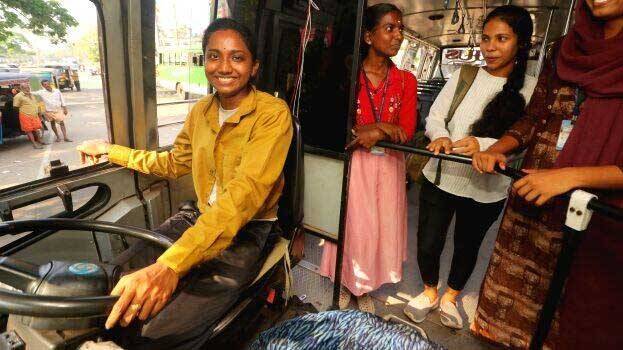 Will ride father's bullet to reach college. During free days, will adorn a khaki to steer the wheels of a bus. Rupa does all this not out of penury but of sheer will to turn independent and to live a life of her choice.
Rupa is the driver of Anju's bus that shuttles service in the Kollam-Chavara area. She is 25 and is currently enrolled in PG Diploma in hospital administration at Kollam PHRD center. Monday, Wednesday, and Friday are college days for the young dame while the other days she takes the wheel to surprise many onlookers on the busy Chavara roads.
During childhood itself, Rupa took a liking to drive. She took a license during her college days at SN college Kollam. The very next year after obtaining a license, she took a heavy license too. From the start of February, she started working as a driver for the bus. The working hours are from 7 in the morning to 7 at night. She is provided a daily pay of Rs 850.
Santhosh, Rupa's father works in the CBI office. During the first term of her college days, it was her father who paid the money required. The thought pondered over her to find some means to fill the fees without relying upon her parents. She brought the idea to her parents but was shocked by their instant yes nod. Her father talked with his bus owner friend and the job was ready at the turn of the day.
Rupa sometimes buys the needed essentials including groceries for home while returning from work. Occasionally she gets her parents some money. She is keeping a close eye to join the defense and is dedicated to her studies during night hours.
Rupa wants all girl students to be independent rather than shouldering all bane to their parents.