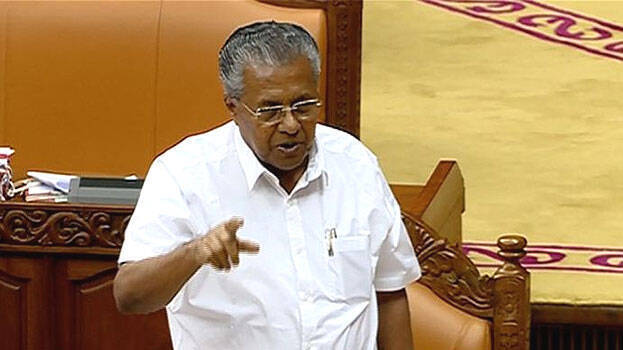 THIRUVANANTHAPURAM: Chief Minister Pinarayi Vijayan has announced in the Assembly that the Vigilance and Anti-Corruption Bureau will investigate the proceedings of the Brahmapuram waste treatment plant since its inception. A Special Investigation Team of the police will investigate the criminal cases related to the fire. The CM also said that the government will appoint an expert team to conduct a comprehensive inquiry into the Brahmapuram incident and submit recommendations.
The Chief Minister stated that the Kochi Corporation Council had unanimously decided to award the contract for bio-mining. However, he did not mention the controversial Zonta company by name.
"5.59 lakh tonnes of waste accumulated in 10 years after the bio-waste treatment plant was dilapidated. The government intervened under the Disaster Management Act and started the procedures for biomining after the Corporation Council adjourned the scientific disposal of waste 23 times despite the order issued by the National Green Tribunal. In 2019, the procedures for bio-mining and setting up a waste-to-energy plant were initiated through KSIDC," Pinarayi said.
"The bio-mining contract is worth Rs 54.90 crores. 30 percent of bio-mining has been completed. Rs 11.06 crore was paid to the company in two instalments. The government has given strict instructions to the company to complete bio-mining by June 30. Kochi was awarded the Best Zero Waste City in 2009 for its decentralized and efficient waste management. After 2010, inorganic waste reached Brahmapuram in large quantities. Moreover, waste from nearby local bodies was also dumped in the plant," the CM said.
"The government had decided to set up a waste-to-energy plant in Brahmapuram for 350 crores. A contract was awarded to a company called GJ Eco Power in 2018. However, the contract was cancelled as the work did not start. The project is getting delayed as there is a dispute in Kochi Corporation in awarding a new contract. The new plant is expected to be operational within two years," he added.
The Chief Minister also appreciated the agencies, including the fire force, for putting out the fire.