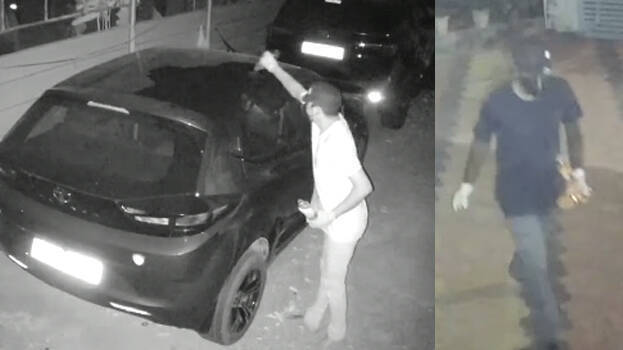 VENJARAMOODU: Miscreants set fire to two new cars parked in a house. Fortuner and Altros parked in the house of Murukan of Muruka Vilasom at Valiyakattakkal in Venjaramoodu were set on fire late last night. As the inmates woke up hearing a noise and doused the flames, the cars were burnt only partially. The inmates estimated a loss of Rs 6 lakh.
CCTV visuals of a person in a Zen car, wearing a mask and cap, was found pouring a petrol-like substance on the cars from the bottle he brought and setting it on fire. However, the number of the car the miscreants came is not clear.

Murukan has been in the Gulf for years. Only Murukan's father, mother, daughter-in-law and child were in the house at the time of the incident. No hint is obtained about the accused. It is indicated that they know the area very well. The police are trying to nab the accused focusing on the CCTV visuals.