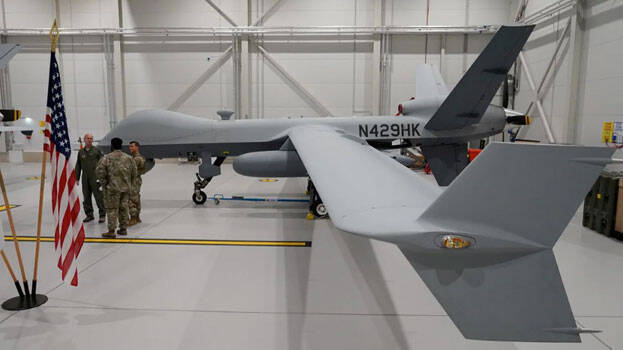 WASHINGTON: US Defence Secretary Lloyd Austin said that US aircraft will fly wherever international law allows. Austin also warned Russia to act with caution. Austin's statement came after a phone call with Russian Defence Minister Sergei Shoigu.
An unmanned US drone flying over the Black Sea collided with a Russian jet and crashed. The incident happened on Tuesday morning. The US MQ-9 Reaper drone was shot down by a Russian Su-27 fighter jet at an altitude of 25,000 feet above sea level during a routine surveillance of international airspace.
The drone, which took off from Romania, was flying in international airspace over the southwestern part of Crimea. Due to the impact of collison, the drone went out of control and crashed into the Black Sea. The Russian jet is also believed to have been damaged. Russia has denied allegations that it deliberately followed and shot down the drone.
America's version:
Two Russian Su-27 fighter jets followed their MQ drone which was on surveillance. The planes that flew overhead dumped fuel on top of the drone about four times. One of the planes hit the drone's propeller. It lost control and fell into the sea. The actions of the Russian pilots are reckless and unprofessional.
Russia's version:
US allegations are all false. The drone was not shot down by Russian jets. No weapons were used. The drone's transponders, which is used for tracking, were turned off. But the US denied this. The jets followed the drone that came towards the Russian border. However, the drone lost control and crashed into the sea. The Russian Defence Ministry has accused the US drones of intruding into areas under its control. The Russian ambassador to the US, Anatoly Antonov, has accused the US of leaking secret information for Ukraine. Anatoly added that the US tried to provoke by flying a drone over the Black Sea.