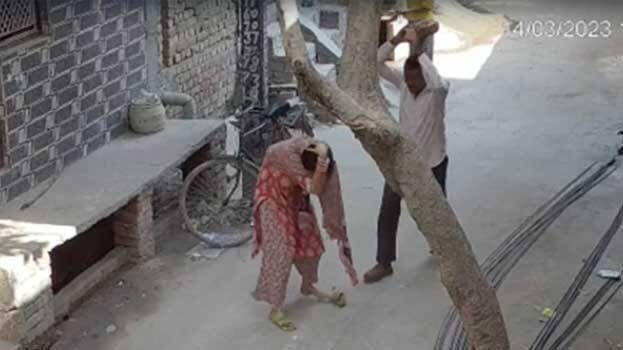 NEW DELHI: A father-in-law hit a 26-year-old woman on the head with a brick. The incident took place on Tuesday in Delhi's Prem Nagar. A woman named Kajal was attacked. CCTV footage of Kajal being assaulted by her father-in-law is circulating on social media.
Kajal wanted to go to work to support her husband Praveen Kumar. Enraged by this, the father-in-law attacked Kajal while she was going for a job interview. In the footage, the father-in-law can be seen talking to Kajal who was passing by with a brick in his hand. But when Kajal was about to leave again, he striked her on the head with a brick. In the footage, he is seen running after Kajal who is trying to escape.
Praveen who came to know about the incident, reached the spot and took Kajal to the hospital. She had to get 17 stitches on her head. According to the police, a case was registered against Kajal's father-in-law on the complaint of Kajal's parents.