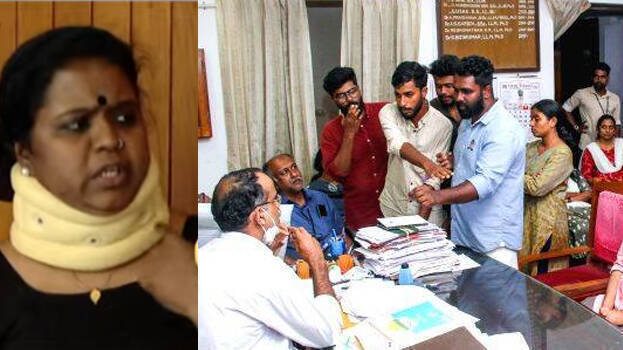 THIRUVANNATHAPURAM: A teacher said that she was brutally harassed by the SFI activists during the clash that broke out at the Government Law College yesterday. Assistant professor V K Sanju said that she sustained injuries on her neck and the teachers were locked up in a room. Soon after action was taken against the SFI in the clash between them and the KSU, they besieged holding the principal and the teachers' captive for hours.
'They harassed the complete teachers for nearly 10 hours. Apart from the SFI activists of the college, there were many from outside, in the college. They switched off the fan and the light. They refused to switch it on when demanded. They did not pay heed to our request to let them out even after citing health issues. They said will not allow us to go outside unless a decision is taken. When tried to go out, dragged my hand. In a checkup at the hospital, injuries were found on the neck. Following a complaint lodged, the museum police recorded her statement,' said Sanju.
The incident started after a clash broke out on Monday between the two groups while trying festoons in connection with the college union elections to be held on March 24. Another clash broke out on Tuesday when the SFI staged protests over the incident. The SFI and the KSU lodged a complaint pointing that many students from both groups sustained injuries in both attacks on two days. The principal and the PTA office bearers convened a meet and heard both their versions and examined the CCTV visuals.