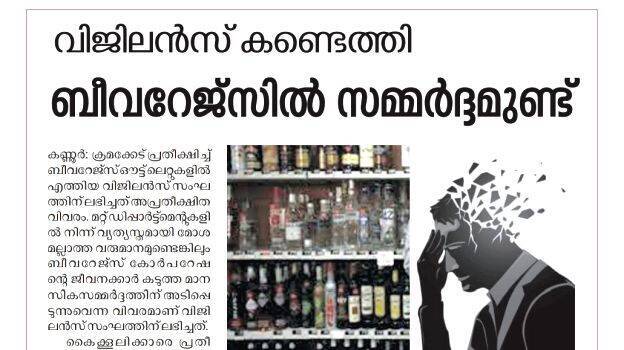 KANNUR: It has been decided to ensure the services of clinical psychologists and psychiatrists at the headquarters and selected warehouses of Beverages Corporation on every Tuesday and Thursday from next week to reduce the severe mental stress of employees. The treatment will be completely free. Psychologists and psychiatrists will examine the employees from 1 pm to 2 pm. In the next phase, the service will be made available at the outlets as well.
Kerala Kaumudi had reported that the employees were facing severe mental stress and that pills for mental illness were found in the bags of several employees during the vigilance check at the outlets. The decision to appoint doctors was taken following this report.
It was found that all the employees of an outlet are experiencing similar stress. The authorities believe that the functioning of the corporation can be facilitated by reducing the mental stress of the employees.
To reduce mental stress of employees
1. Service of clinical psychologist and psychiatrist
2. Family get together of employees
3. Leave will be ensured