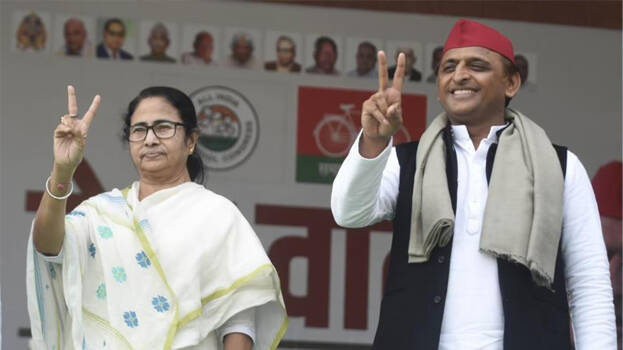 KOLKATA: Samajwadi party and Trinamool congress will join hands to fight the BJP might in the coming Lok sabha elections, terms agreed. The new team of SP and TMC is quite a decision since the biggest opposition party Congress has been omitted from the picture. TMC supremo Mamata Banerjee met with SP top gun Akhilesh Yadav in a meeting arranged in Kolkata and decided in the unison to break the BJP bulwark.
Even while talks were busy about a third alternative to fight BJP, Akhilesh Yadav showed aversion to shaking hands with congress. He termed the congress as not efficient under the current leadership and accused the congress of being no different from BJP when it was in power. Akhilesh accused the then congress government of illegally using central agencies to curtail dissent.
Meanwhile, after the terms of the agreement with Akhilesh Yadav, Mamata Banerjee looks to head straight to Odisha on Wednesday. The plan for a third alternative is still aflame as Mamata looks to meet with Naveen Patnaik to discuss terms.