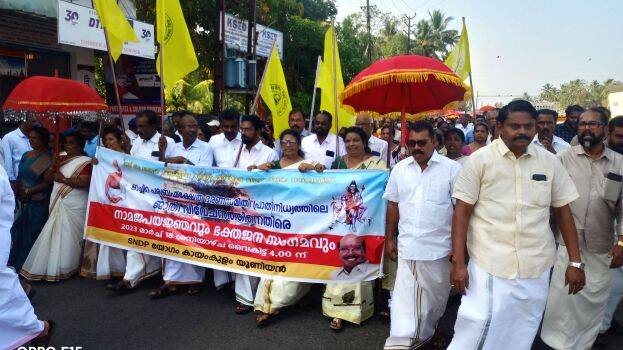 KAYAMKULAM: Devotees rage against caste discrimination in the Oachira Parabrahma temple governing body. The SNDP meeting was held under the joint auspices of the Kayamkulam, Karunagappally, and Charummood Unions, where around 10,000 devotees participated in the prayer chanting and devotional meeting at the Parabrahma sanctuary.
According to the existing rules in the temple, there was 40 percent representation each for the Ezhava and Nair communities, 10 percent for the Dhivara community, and 10 percent for general Hindus. But now, when a sub-committee was formed to help the receiver, the protest was that the Ezhava community was completely excluded.
Devotees concentrated in the north of the temple under the leadership of Kayamkulam and Charummood unions and in the south under the leadership of Karunagappalli Union and reached the temple chanting prayers. The Nama Japa protest by adults, women and children made the Parabrahma sanctuary a devotional center. The SNDP meeting that followed was inaugurated by Councilor PT Manmathan. Karunagappally Union President K Sushilan presided. Kayamkulam Union President V Chandradas, Secretary P Pradeep Lal, Karunagappally Union Secretary A Somarajan, Charummood Union Chairman Jayakumar Parappuram and Convener Sathyapal spoke.
Strong warning
Sri Narayani's protest at the Oachira Parabrahma temple sanctuary yesterday served as a strong warning against caste discrimination. The devotees said in unison that the freedom and equality won through many struggles will not be surrendered. Some local BJP leaders were also criticized for their involvement in the conspiracy.