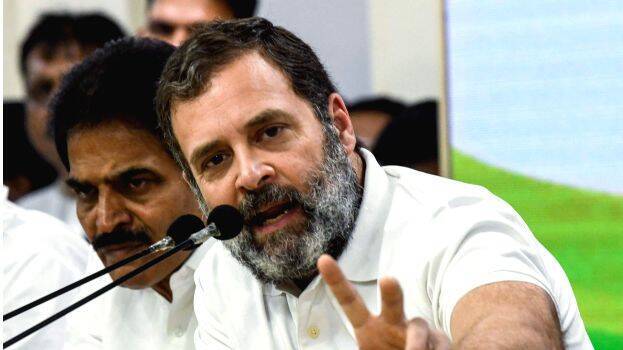 NEW DELHI: Rahul Gandhi appeared for the first time before the press after getting disqualified from the Lok Sabha. Gandhi said he will still raise pertinent questions regarding the unholy nexus between Adani and Modi. He also said no such measures can stop him from exercising his democratic right.
" I have before mentioned India turning into a dystopian state with no freedom of speech. Now it is getting more evident with such measures. It all started after I questioned inside the parliament about the cohorts between Modi and Adani. The speech was taken off from record and now I am being expelled from the parliament. Many BJP ministers spread rumors telling I called for foreign intrusion into India. I never made any such disparaging comments and will sure ask more regarding the Adani saga. And for many BJP party leaders, I shall again remind you to expect no such apologizing from my part since I'm Gandhi, not Savarkar" Rahul Gandhi explained.
The senior leader further said that he will continue doing his work and that it does "not matter if I am inside the Parliament or not. I will keep fighting for the country".
"I am not going to back down and will stick on the principle and even if I am disqualified for life, then also I will keep raising questions and fight for the people," he added.
Rahul Gandhi was on Friday disqualified as member of Lok Sabha a day after conviction in the 2019 "Modi surname" defamation case.
Rahul who represents the Wayanad parliamentary constituency of Kerala was disqualified under provisions of Article 102 (1) (e) of the Constitution of India read with Section 8 of Representation of the People's Act.
On Thursday, he was sentenced to two years in jail by a Surat court in the case filed on a complaint by BJP MLA Purnesh Modi.