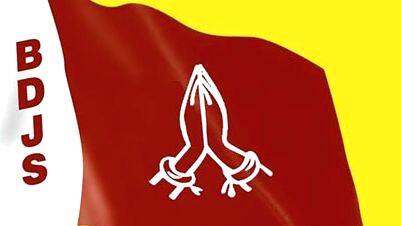 THIRUVANANTHAPURAM: The intervention of the BJP national leadership to keep the BDJS together is showing results. BDJS will take a maximum number of workers to the secretariat march conducted by NDA today against the corruption and anti-people policies of the state government.
BDJS president Tushar Vellapalli, who arrived in Delhi on the invitation of the national leadership, met BL Santhosh, general secretary of the BJP national organization. Tushar is also meeting party president JP Nadda and Union Minister Amit Shah. The national leadership also wants to warm the relationship with BDJS as the main constituent party of NDA in Kerala.
BDJS was angered by the non-participation of BJP leaders in the state study camp organized in Kochi. They had also raised public criticism against this. In a meeting attended by Union Minister Amit Shah, Suresh Gopi's speech to declare himself a candidate for Lok Sabha, also caused displeasure to BDJS. There were indications that the NDA would stay away from the march as a continuation of this.
BDJS will also start steps to increase organizational strength ahead of the Lok Sabha elections. After the constituency and district-level meetings, the organization will be fully strengthened with the completion of the state conference. A vehicle procession led by Tushar Vellappally is also being organized from Palakkad to Thiruvananthapuram in May detailing the development and welfare activities of the Modi government.
BDJS may also get the administration of some important institutions under the central government. There are indications that an agreement will be reached in this regard during the meeting with the leaders.